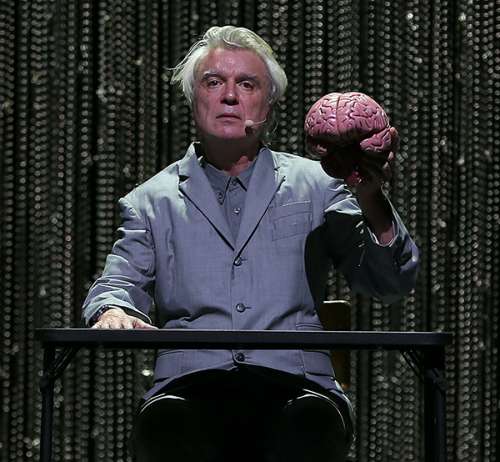 Photo by Daniel Gluskoter
BY DANIEL GLUSKOTER
35 years after he guided The Talking Heads to "Stop Making Sense", David Byrne clearly demonstrated that his genius continues to shine as he returned to share his view of an "American Utopia" at the Bill Graham Civic in San Francisco Wednesday evening.
Backed by the precise choreography and theatrics of up to 14 talented musicians, the 66 year-old Byrne is touring in support of the recently released solo album, his first in 14 years. Described as his "most ambitious" tour since "Stop Making Sense" was documented by Jonathan Demme back in 1984, it was often challenging to discern whether we were being treated to an iconic concert performance or a stellar Broadway play.
Opening the show alone onstage, barefoot and seated at a desk while singing "Here" from the new album as he displayed an oversized replica of a pink human brain in his left hand, the now silver haired frontman appeared in a fully buttoned charcoal grey-suit with a wireless headset. The whole ensemble, including six percussionists, would be attired identically with wireless instruments for the entire evening.
Performing eight songs from the Talking Heads catalog along with seven from the strong "American Utopia" album, Byrne continues to produce great music in his fifth decade in the industry, some 30 years after the Heads disbanded.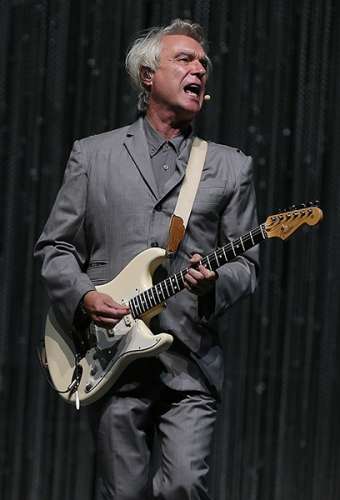 Photo by Daniel Gluskoter
Serving as a conductor on a barren stage surrounded by lightweight aluminum chains as curtains on three sides, devoid of any instruments or props, Byrne at times played the role of leading a marching band crisscrossing the stage, sometimes mariachi style in a circular conga line. Moving well and animated throughout the evening, with his band tightly in step throughout, he's accumulated a wealth of quality solo material over the past three decades, even if it isn't as well known as the iconic content he delivered while fronting the Heads.
Older cuts like "Burning Down the House," and "Once in a Lifetime" clearly elicited the greatest responses from the crowd. But it was also the rare special strobe effects employed during "I Dance Like This," which started with Byrne sleeping on the stage, and "Blind," where the artists were enlarged in shadows the height of the stage with the curtains offering a rare backdrop, that provided unexpected highlights.
An unabashed and respected activist, Byrne largely refrained from politics until the encore with the exception of a few shout-outs imploring the audience to vote. Retuning to the stage following the set ending "Burning Down the House," he dug out the rarely heard gem "Dancing Together" from 2010's "Here Lies Love," his concept album based on the life of former Philippines first lady Imelda Marcos. "Paul Manafort worked for Marcos," Byrne couldn't resist stating just one day after the former Trump campaign chairman and lobbyist was convicted of eight felony charges. "The Great Curve" from "Remain In Light" followed as many in the crowd prematurely headed for the exits, unaware that a second encore remained.
A stellar cover of Janelle Monáe's "Hell You Talmbout," a 2015 protest song about racial injustice, was highlighted by each band member taking turns at the microphone to repeatedly call out the names of
African-American victims killed by police violence. Shouting a seemingly endless list of names of those
who had their lives cut short prematurely, it was a powerful statement. Stating that Monáe had given him license to update her lyrics, Byrne modernized it. "Trayvon Martin, say his name. Michael Brown, say his name. Freddie Gray, say his name. Emmett Till, say his name."
The chants for each victim were repeated at least four times each. Unfortunately, there were far too many victims to remember, and sadly it could've lasted even longer. It was a somber, but intense end to a memorable 100 minute set.
Byrne's "American Utopia" tour moves south with shows in Santa Barbara and Los Angeles this weekend before arriving at Red Rocks for a pair of performances in Denver beginning Monday.