The visionary David Byrne on chickens, sustainability and other reasons to be cheerful
Via syracuse.com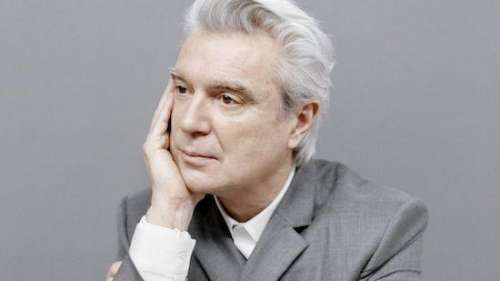 Photo by Jody Rogac
By Dan Poorman
Eight studio albums with Talking Heads. Eleven studio albums as a solo artist. Nine books. One Grammy. One Oscar. One Golden Globe.
And, on his first true solo record in 14 years, a whopping three chickens.
"I had friends say, 'What?! Another song with chickens?!'" David Byrne said, laughing heartily, in an interview with syracuse.com.
The "song with chickens" here is "Every Day Is A Miracle," track 3 on "American Utopia," which, in true Byrnian form, explores plenty of heady ideas about the human condition in smacks of color and scurrying creatures. See, Byrne sings not only about chickens on this album -- there are also cockroaches; elephants; donkeys; foxes.
"I can deal with something quite serious, but bringing in an animal's point of view can lighten it up," Byrne said, "and then it actually becomes slightly funny."
Take, for example, the tune "Dog's Mind," wherein Byrne muses, "Now, a dog cannot imagine / What it is to drive a car / And we, in turn, are limited / By what it is we are." A dog reappears later, old and gray on "Bullet," to chase a fox, but it turns out that pursuit is just a simile for a bullet coursing through a human body.
Case in point: These aren't your typical pop songs, and Byrne knew, from the moment he wrote them, that they'd need a special live tour.
Byrne and his band embarked on the "American Utopia" tour back in March, and it's still going. The show will stop at the Landmark Theatre in Syracuse on Wednesday, September 12, with support from New England art pop outfit Tune-Yards.
Byrne has called his "American Utopia" show his most ambitious live undertaking since "Stop Making Sense," the groundbreaking and critically acclaimed 1984 Talking Heads concert film directed by the late Jonathan Demme.
"The stage is completely empty," Byrne said. "There are no risers, there's no drum kit; nothing. All the band members are mobile. Everything is made by all the musicians, who are moving around and playing at the same time."
All that, Byrne noted, requires "a good amount of invisible technology." The only set piece, really, is a lightweight metal chain, which Byrne likens to a minimalist "curtain," boxing everyone in. Instruments are wireless, amplifiers are offstage, and lighting is made possible by a new technology called BlackThrax. Byrne and each member of his 12-piece band wear discreet infrared tracking lights, with every cue being set by their movement on stage.
And there's plenty of movement, because the concert is also fully choreographed. "American Utopia" marks Byrne's second time working with Brooklyn choreographer and postmodern dancer Annie-B Parson. Parson last helped Byrne and his friend, Annie Clark (better known by her moniker, St. Vincent), on their joint tour around "Love This Giant," their 2012 collaborative record, noted for its use of marching band instrumentation.
Byrne said he enjoys working with Parson because she understands and even embraces the limits of non-trained dancers like himself.
"Annie-B realizes we are what we are, and the kind of stuff we can do is what we can do," Byrne said, "but we can still push it pretty far. The kinds of movement and gestures that she is drawn to -- it's not the kind of typical dance movement that you might see in other dance-heavy shows. It's sometimes very pedestrian. It's eccentric."
It's a style, Byrne added, that complemented his vision for the deconstruction of the on-stage rock band. There are notes of Byrne's fixation on marching band formation in his "American Utopia" show -- perhaps most recognizably in how he's delegated drums.
To accomplish the sound of a full drum kit with auxiliary percussion, Byrne has six drummers on this tour with him. Some wear snares; others, hi-hats; others, bass drums, and so on.
"Various record producers have seen my show and they say, 'I can't believe it sounds like a drum kit, because I can see that there's no drum kit there,'" Byrne chuckled.
In fact, he's doing a lot of chuckling these days. "American Utopia," the record, evolved in parallel with Byrne's speaking series "Reasons To Be Cheerful" (RTBC), which is just what it sounds like -- a running list of reasons to be cheerful.
"Two years ago or so, I was just going crazy every morning when I'd read the news. I'd get upset. It made me depressed," Byrne recounted, "but occasionally I'd come across something that would give me a little bit of hope; a little bit of encouragement. I started saving those, and putting them in little folders. Eventually I realized, 'Hey, there's a fair amount of this.'"
Today, Byrne still keeps up with RTBC, whether he's writing a blog post on its website, giving a TED-style talk or injecting traces of that philosophy into his songwriting and performing. RTBC, he said, keeps him engaged with the outside world while he's on tour.
Most recently, what has made David Byrne cheerful is the news that more cities like his own New York are divesting in fossil fuels and committing to renewable, sustainable energy solutions. At the time of our interview, he'd just scrawled that up in a blog post.
"A lot of these things that I'm finding, they tend to be local," Byrne said. "It tends to be a state, or a city, or a county, or a municipality that's done something that kind of works. If it seems to prove to be successful, then I'll include it, and I'll feel like, 'This is something that other places can emulate.'"
Perhaps the ever-implicit form of cheer in Byrne's life, however, is his continued pursuit of art and music. It's performing barefoot with six drummers on an empty stage, dancing how he wants to dance and singing how he wants to sing -- even if the song is littered with cosmic chickens.
"It's one thing for me to describe it," Byrne said, "but I think when people experience it, it's kind of a big surprise."
Want to see David Byrne live in Syracuse?
Where: The Landmark Theatre, 362 S Salina St., Syracuse
When: 7:30 p.m. on Wednesday, September 12
How much: Tickets start at $41
Tickets can be purchased online.