David Byrne remains in light at phenomenal Orpheum show
Via City Pages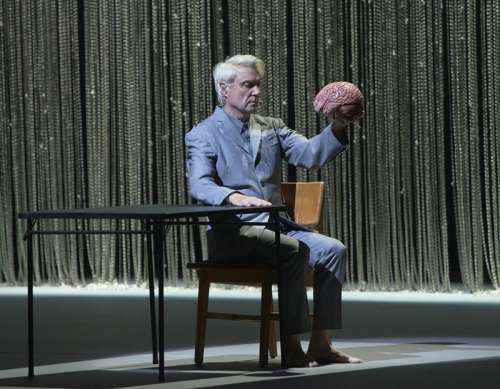 Photo by Tony Nelson
By Erik Thompson
The 66-year-old former Talking Heads frontman stylishly pondered that query during a stunning 100-minute performance at the Orpheum Theatre last night. A dynamic 11-piece backing band was in constant motion on a vast stage that was completely void of amps, cords, monitors, or mixers. All the instruments were wirelessly connected, allowing the musicians free range to parade around like a celebratory second line when the songs called for it, or in a slow funeral march when the music grew somber. The entire performance was fluid, with Byrne and his brilliant band combining music and movement in a striking, innovative fashion.
The show began with Byrne alone on the stage, seated behind a desk, contemplating a human brain. This set the tone for the show, which celebrated the boundless glory of what great minds can achieve, while also illuminating the brutal deficiencies of close-minded thoughts and actions.
The full band eventually emerged through shimmering, pearl-like curtains, all of them barefoot and dressed in matching custom-made gray Kenzo suits. This was performance art of the highest order, with the group never shying away from making this an intricately choreographed grand spectacle.
The night's first Talking Heads number, "I Zimbra" gradually coaxed the crowd out of their plush theater seats, while a dynamic run through of Speaking in Tongues' "Slippery People" got the sold-out room dancing and singing along to Byrne's prescient lyrics: "Put away that gun/This part is simple/Try to recognize/What is in your mind/God help us!/Help us loose our minds."
A vibrant seven-piece drum troupe continually pushed the songs forward. Byrne was joined throughout the set by two back-up singers/dancers, but the three vocalists were consistently outnumbered by the drummers, underlining how Byrne has always prioritized rhythm over lyrics. The sound was so pristine throughout that you might have wondered if it was augmented by backing tracks, but Byrne put any doubt to rest by proudly proclaiming, "Everything you hear tonight is being played by these incredible musicians."
During "I Should Watch TV," from the 2012 collaborative album with St. Vincent, Love This Giant, Byrne stared at a blinking fluorescent source of light on the wall, eventually succumbing to its charms and disappearing through the curtain, evoking the all-consuming TV nightmare of Poltergeist. Byrne and his backup vocalists performed a series of timekeeping calisthenics for bespoke intellectuals during a glorious version of "This Must Be the Place (Naive Melody)," while a triumphant "Once in a Lifetime" featured the singer twitching nervously alone in the spotlight before the massive chorus kicked in, turning the paranoid musings of a solitary soul into an anthem of unity.
The new songs from Byrne's first solo album in 14 years, American Utopia, fit seamlessly alongside old Talking Heads gems. "I Dance Like This," "Bullet," and "Every Day Is A Miracle" continued the creative conversation that "Born Under Punches (The Heat Goes On)" and "Blind" had begun, with Byrne still striving to find the beauty in the mundane and the holy moments within the chaos of modern living. "Like Humans Do" perfectly exemplified that philosophy, becoming an ode to the simple but necessary act of remembering to breathe in and out.
"Burning Down the House" brought the main set to a euphoric end, with Byrne leading the way on acoustic guitar before the stage was bathed in a fiery, ominous red and the indelible chorus swept up the crowd. We sang our collective hearts out, as if we were all ready to burn it all down and start over again in the ashes of our failed American experiment.
The potent encore started with "Dancing Together," a track drawn from Byrne's musical about Imelda Marcos' love of disco and the glitz and glamour of the Studio 54 scene, Here Lies Love. The number allowed Byrne to look back wistfully on his own emergence into the New York art rock scene of the '70s and '80s and how everything has changed so drastically since. Then guitarist Angie Swan delivered a smoking, Prince-like guitar solo at the end of the Remain In Light classic, "The Great Curve," which brought the first encore to an emphatic close.
Other than a brief plug for HeadCount, a non-profit Byrne has partnered with at his shows that registers people to vote, the show lacked explicit political statements. But the second encore changed that with a powerful cover of Janelle Monáe's tribute to those lost to violence and police brutality, "Hell You Talmbout," updated to include the names of recent victims, including Philando Castille. It was a stark reminder to us all that we have a lot of work to do to transform the world in a positive way, and that the only way we're going to enact any real sense of change is by unifying our voices together and demanding to be heard.
See our full photo gallery from the show here.
Notes on the opener: Benjamin Clementine's stirring set struck a strong tone for the night. Seated at a piano with only a guitarist joining him, the 2015 Mercury Prize-winner delivered a series of touching, deeply moving numbers that illuminated the ache of both loss and loneliness, as well as the eternal hope that music holds. During "One Awkward Fish," Clementine put the broken pieces of a child mannequin together piece by piece, leaving him intact in front of a pregnant mannequin draped in an American flag. This was likely the best opening set I'll see all year. Just perfect.
Overheard in the crowd: "Some of those instruments look like they were just invented—like they were made by scientists just for this show."
Setlist
Here
Lazy
I Zimbra
Slippery People
I Should Watch TV
Dog's Mind
Everybody's Coming To My House
This Must Be The Place (Naive Melody)
Once In A Lifetime
Doing the Right Thing
Toe Jam
Born Under Punches (The Heat Goes On)
I Dance Like This
Bullet
Every Day Is A Miracle
Like Humans Do
Blind
Burning Down The House
Encore
Dancing Together
The Great Curve
Second Encore
Hell You Talmbout (Janelle Monáe cover)