Rocker David Byrne artfully burned down the house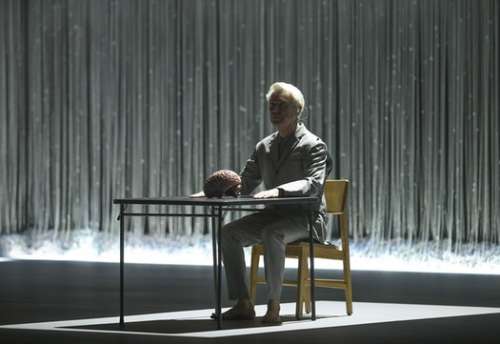 Photo: JEFF WHEELER – STAR TRIBUNE
By Jon Bream
David Byrne, rock's Renaissance man and arty oddball, is an enduringly alluring contradiction. He is simultaneously daring and dorky, profound and preposterous, brilliant and befuddling.
Onstage Thursday for the first of two nights at the Orpheum Theatre, he was besuited and barefoot. So were his 11 musicians, six of whom were percussionists. They were all dressed in gray suits like the one Byrne was wearing.
In his most ambitious staging since the 1983 tour with his then-band Talking Heads that was captured in the landmark rock-concert film "Stop Making Sense," Byrne, 66, went high-concept. There were no amplifiers, risers, drum kit or keyboard stands. All the musicians carried their instruments, and they all danced. So did Byrne.
But this was a different David Byrne. Warmer, more human, seemingly more comfortable in his own skin. He was still mannered in his movements but less affected. His persona was more reflective of Byrne, the musical collaborator with high school and college color guards in the 2016 documentary "Contemporary Color."
In fact, the entire staging seemed influenced by color guards and marching bands as Byrne and his ensemble paraded around the stage in different formations and permutations. The only non-kinetic moment was at the beginning when the star sat at a school desk holding a model of a brain to introduce his, well, brainy show with the new tune "Here" from his first solo album in 14 years.
The meticulously choreographed staging was minimalist and deep at the same time. The stage was framed by tall white beaded curtains and the players entered and exited throughout.
At one point, they stood beyond the beads and extended their handheld instruments into the sight of concertgoers. Fitting the monochromatic minimalism of the show, the stage was usually awash in white lights.
Conceptually, this was one of the most creative and imaginative rock presentations in a theater in years. Arty, indeed, as always with Byrne.
The staging reflected the vision of Byrne's new album, "American Utopia," a somewhat dystopian depiction of this country. Some of his observations are provocative, some puzzling. On Thursday, he offered seven numbers from the new album. "Bullet" was a repetitious dirge that was off target. "Every Day Is a Miracle" had surreal and nonsensical lyrics. At least you could dance to it, a point underscored in the ironic "Dance Like This," with the self-deprecating lyrics, "If I could dance better, you know that I would."
It was a perfect kicker after a series of dance-happy tunes including the Talking Heads classics "Born Under Punches" and "Once in a Lifetime," during which Byrne reprised his jittery and jerky moves from his 1980s Rock & Roll Hall of Fame heyday.
The eight Talking Heads tunes were treats, especially the tribal funk "The Great Curve" and the incendiary "Burning Down the House," during which Byrne actually looked to be having fun instead of merely sticking to the choreography. Afterward, he was sporting a giddy smile, something we seldom see from him.
But then, on this night, he was better than he ever was.