David Byrne shares "Pop Music" playlist, featuring Rihanna, Carly Rae Jepsen, Grimes, and more
Via The Fader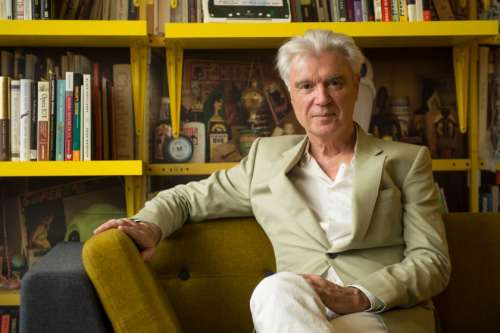 Photo by Ian Gavan/Getty Images
By Lily Puckett
David Byrne shared a new playlist on his website on Wednesday called "David Byrne Presents: Pop Music." The 30-track playlist features Carly Rae Jepsen, Childish Gambino, Rihanna, The Weeknd, Drake, Grimes, Justin Bieber, Migos, Selena Gomez, who sampled Talking Heads on "Bad Liar," which appears on the list. In an accompanying post on his website, Byrne explained that the list includes current and older songs and is the result of a longtime accumulation of "total earworms for me."
"Though the sounds and styles vary, I'd say that one has to admire the skill and craft involved in the creation of these hooks, the incremental dribbling out of little surprises and the production that holds your attention," he wrote. "I subscribe to most of those aims and values as well, but I'm saddled with trying to keep my eccentricities while still having catchy choruses and an accessible sound. I listen and learn from these songs and their production, while still perversely holding onto the idea that I can also do it my own way. I love collaborating, but I'm too much of a control freak to ever completely let go of the reigns. But I can still sit back, enjoy and sing along."
Byrne is currently on tour after the release of his album American Utopia. On Sunday, he closed out his performance in New Orleans with a rendition of Janelle Monáe's "Hell You Talmbout" after explaining that she gave him her full permission to do so. Her song with Grimes, "Venus Fly," appears on the playlist. Listen below.