David Byrne's "American Utopia" Tour Shortlisted for Q Award for Best Live Act
Via Nonesuch Records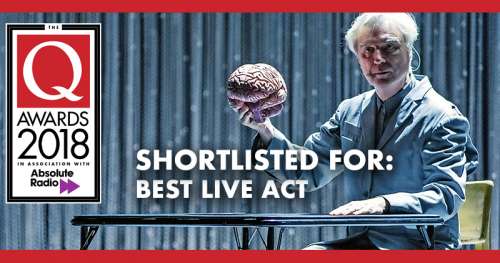 David Byrne's American Utopia tour, which has earned rave review across continents throughout the year, has been shortlisted for a Q Award for Best Live Act (up against Taylor Swift, among others). "I love these shortlists and I love the Q readership even more for supplying them," says Q editor Ted Kessler "It's decided by the readers and the writers of Q alone, and consequently these shortlists represent the very best of music now." Folks can cast their votes and choose the winners now through Thursday, October 5, at qthemusic.com. The awards will be presented in a sold-out show at London's Roundhouse on Wednesday, October 17.
Byrne brought his American Utopia tour home to New York City for a concert at Forest Hills Stadium in Queens on Saturday and two sold-out shows at Kings Theater in Brooklyn on Sunday and Monday. The tour continues in the US through mid-October, culminating at Austin City Limits on October 12, and heads back across the Atlantic for two weeks of arena shows in the UK. Details at nonesuch.com/on-tour.
"If you only go to one gig this Autumn, make it this: David Byrne's imaginative, breathtaking show is a work of art, and toured smaller venues across the country earlier this summer," exclaims the Independent's i autumn arts preview. "With dynamic choreography and a troupe of stellar instrumentalists playing world music, Talking Heads classics and solo work from his recent album American Utopia, it is unlike any rock concert you've ever seen before."
"Arguably the most acclaimed live shows of the year, the blend of brilliantly simplistic staging and lighting, hugely impressive choreography—everyone on stage is in constant motion—and Byrne's fantastic backing band makes for a genuinely boundary-breaking experience," says the Guardian's autumn arts preview. "The setlist is fantastic—heavy on selections from Talking Heads' avant Afro-funk albums—and the whole gig is quite unlike anything else that's been attempted in the area of live rock music."
Exclaim!, reviewing the recent Ottawa set at CityFolk Festival, gave the performance a perfect ten. "[A]bsolutely no one in the nation's capital seemed prepared for the pure brilliance that his 2018 solo tour would bring," writes reviewer Daniel Sylvester. The show proved how "Byrne could create brilliantly executed and touching modern theatre with nothing more than a dozen musicians, a repertoire of classic songs and one of the most adventurous brains in music."
To pick up a copy of the album American Utopia, head to your local music store, iTunes, Amazon, and the Nonesuch Store, where CD and vinyl orders include a download of the complete album at checkout. You can also listen to the album on Spotify and Apple Music.