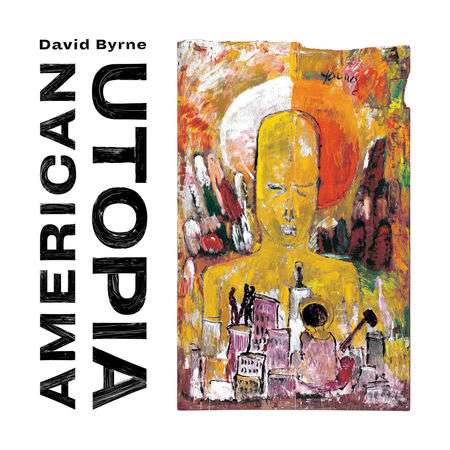 By AD Amorosi
David Byrne
American Utopia
NONESUCH
8/10
When we last left David Byrne—the one-time Talking Head–turned–global music multi-hyphenate—he was waving color guard flags, staging his Imelda Marcos musical, becoming an American citizen, and singing with everyone from De La Soul to St. Vincent. Byrne had no solo album to speak of for fourteen years (seems impossible, but true) until American Utopia. It's a crisp, beautifully Byrne-ish album recorded and written mostly with old friend Brian Eno, featuring their usual twitchy funk guitars, snake-rattling rhythms, squawky vocals, uneasily identifiable ambience, and stories of chickens, dogs, gasoline, dirty sheets, and dancing. So nothing has changed and everything has changed (this might be Byrne's most cosmopolitan album), and that's how David Byrne is best served.
As part of Byrne's supposed multimedia project, Reasons to Be Cheerful, the aw-shucks goofball cheer of the elated "Every Day Is a Miracle" and the poignant silliness of "Dog's Mind" (Byrne sings, "A dog cannot imagine what it is to drive a car") provide a gentle respite from our current American Dystopia. Even the tremulous tone of "Bullet"—which diagrams the projectile process of a body when it is shot—comes across like Bill Nye rather than Charles Manson, as his shot moves "like an old gray dog on a fox's trail."
An elegiac feeling and sound does come into play through American Utopia's instrumentation and arrangements: the early pastoral piano and Mellotron of Thomas Bartlett on the intro of "I Dance Like This" and "Bullet;" the atmospheric string things-and-clangs provided by Oneohtrix Point Never on the breathy "This Is That;" the melancholy Philly-soul feel and matching lyrical sentiment of "Doing the Right Thing." Unlike LCD Soundsystem (who, these days, would likely prefer that Daft Punk not show up to their home), the tweak-y "Everybody's Coming to My House" is as welcome and inviting as it is high-strung and high-pitched.
By the time we wind up at Utopia's end—"Here," with its yawning orchestral clutter and vaguely Middle Eastern groove—Byrne maintains his happy, if weary, tone. When he coos that no matter what else happens, "It is safe right where you are," he means you are free to dance with the devil in the details or the dogs and chickens at play.