Hong Kong's Clockenflap festival: a curious misfit finding a home amongst the skyscrapers
Via NME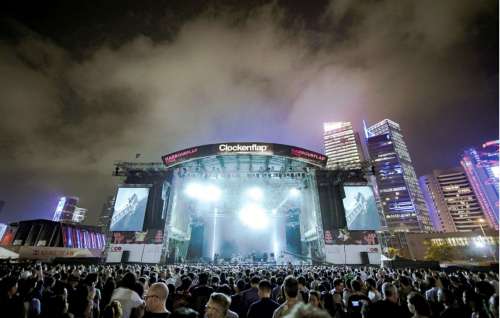 By El Hunt
"Does anybody know what a Clockenflap is?" ponders Jarvis Cocker, scratching his head and pacing a main stage overlooked by dozens of gigantic skyscrapers lining Hong Kong island. "Is it an animal?" he asks the front row. "A machine? Is it frightening? Does it eat grapes?" Unsurprisingly, nobody involved seems to know the answer; as the event's co-founder Justin Sweeting tells me the evening before music kicks off, it's a completely made-up word with no actual meaning. "People said we should call it Hong Kong Rock festival, or something…" he dismisses. Clockenflap, he reckons, just rolls off the tongue – not to mention it piques people's curiosity.
Clockenflap is a curious type of festival full stop. First off, due to its super-central location, there's a curfew. One minute you'll be watching Bristol staple Roni Size spinning 'Murder She Wrote' to a chaotic tent of thrashing punters, the next, you're greeted by the sight of security politely ushering everyone off site at the thoroughly dignified hour of 10.30pm. Smokers here are banished to an admittedly picturesque "designated area" on the waterfront to enjoy their vices, while the most popular sideshow comes in the form of a rather wholesome stall where festival-goers can press their own vinyl records. Every attendee gets a snazzy metal water bottle with endless free refills, and on top of that, nobody at this festival litters. Should calamity strike – an accidental knock of a plastic cup, a scrap of paper blown from a pocket – a tabard-wearing steward swoops in almost immediately to scoop it to safety. And in stark contrast to the overfilled city-centre day festivals we've suffered in the UK all summer – all dangerous crowd bottlenecks and two hour bar queues – the site is filled with liberal amounts of empty space. At best, it's a sign of good organisation; though you can't help but wonder if the festival's high ticket prices might also play a role.
Because of all of this, Clockenflap feels far less debauched than its other festival counterparts, sometimes to its detriment. Given the general absence of chaos, surreal moments feel odder still. In one such moment, we find Trainspotting author Irvine Welsh – who is DJing 'Another One Bites the Dust' by Queen and enthusiastically dad dancing within a structure that resembles a Christmassy puffer fish – exchanging polite gun-fingers with a bobbing crowd of small children and confused observers seated on beanbags. In another unexpected curveball, Jarvis – performing tonight as JARV IS – asks the audience what frightens them. Things quickly take a turn away from the jovial mood that all his bum-waggling antics are meant to encourage. "Work," comes one reply. "The Chinese government," comes another serious answer.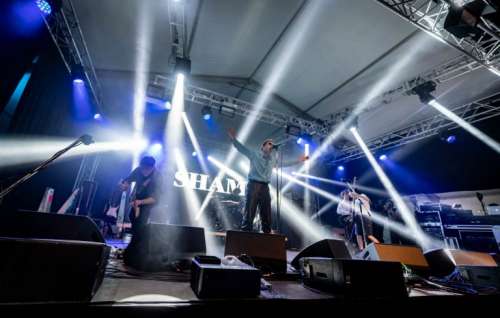 A former British Colony, Hong Kong was 'returned' to the People's Republic of China in 1997, with the Chinese government guaranteeing a capitalist system for the next 50 years. These conditions expire in 2047, and for many residents living in the special administrative region, this brings a number of concerns. As a pro-independence movement has started to pick up steam, the Chinese government is making increasing efforts to quash it. Despite the shimmering skyscrapers and huge bank headquarters that surround Clockenflap – all decadence and phallic-shaped power flexes – Hong Kong is also a city of vast inequality. The average rental price for a one bedroom apartment in the city centre has risen to well over £1500 per month, and according to figures released at the end of last year, one fifth of people in Hong Kong live below the poverty line.
Performing at the foot of these very same banking giants, the garish logo of HSBC peeking out from above his grey chain-mail stage set-up, Talking Heads legend David Byrne closes his astonishing 'American Utopia' set with a cover; taking on a song by another of music's greatest innovators. He and his jaunty marching band of reprobates launch into a more sombre final moment standing in contrast with a set based mainly around dance and celebration; Janelle Monae's 'Hell You Talmbout'. Shouting the names of lives unjustly lost in America – Eric Garner, Walter Scott, John Crawford, Freddie Gray, Sandra Bland, Michael Brown, Trayvon Martin, Emmett Till – it's a searing Black Lives Matter anthem decrying injustice; yelled beneath some of the world's most influential and self-serving corporations. It also seems fitting for the former Talking Heads frontman to pay it forward; Janelle Monae is one of the most exciting artists in the world, and arguably one of his most obvious successors.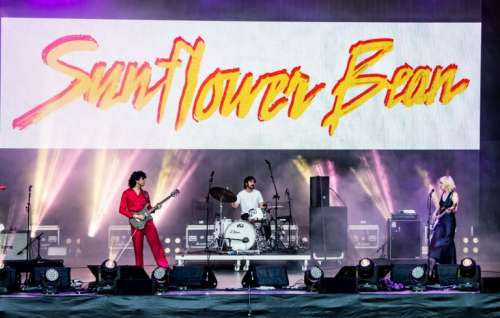 Elsewhere at Clockenflap it's an accidental London indie reunion, the other side of the world. South London upstarts Shame garner rapturous applause over on the groaningly named 'Your Mum' stage, while the following day, Wolf Alice play their final festival in support of their Mercury Prize winning album 'Visions of a Life'. It's easy to detect the palpable relief when Ellie Rowsell states this fact – understandable after such a gruelling tour schedule, really – but still, the band give it everything, goading the crowds, and chucking their guitars into the air with abandon. Representing Stateside, meanwhile, Wolf Alice's old tour supports Sunflower Bean, who're fast becoming as untouchable, thrill the festival with cuts from 'Twentytwo In Blue', and dry-witted Torontonians Alvvays are urged back to the stage for a rare early evening encore.
On the final night of the festival, Cornelius impresses with a bold set; stern and composed in sunglasses, Japanese multi-instrumentalist Keigo Oyamada – the project's ringleader – weaves through an eclectic set, fusing complex, mathy melody lines with dreamy soundscapes that recall Sebastian Tellier and Beck. Another stand-out set comes from the four-piece shoegaze band GDJYB. Named after a Chinese dish – steamed meatloaf with egg – it's easy to see why the Hong Kong band are picking up steam; they're slick and riveting to watch.
Festival organiser Justin Sweeting says that after eleven years of Clockenflap, his ultimate dream is to have a Hong Kong band headline the whole thing. Thanks to the historic lack of music venues around the city, high rents making rehearsal spaces hard to come by, and high ticket prices, even for small gigs, this is a goal that may take time. Yet wandering around newer creative additions to Hong Kong before the festival begins – the artsy PMQ complex, the Tai Kwun arts centre – and looking at the growing numbers of musical initiatives, you also suspect they will achieve it.
For now, though, closing the festival is a task best left to Erykah Badu, the only act across the weekend allowed to defy the early curfew and play on. A slow-burning treat – the neo-soul titan teasingly hides her band behind a curtain for the first handful of songs – the set unwinds gently, visiting classics like 'On & On' and her playful hip-hop leaning mixtape 'But You Caint Use My Phone' alike. Favouriting subtle unfurling to typical headliner bombast, it's an immersive set that – along with David Byrne – steals the show for the weekend.