Milwaukee's Angie Swan touring with David Byrne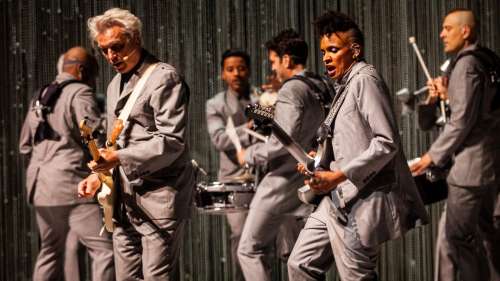 Photo by Philamonjaro
By Joey Grihalva
When PrideFest takes over the Summerfest grounds this weekend, it will mark the official start of outdoor music-festival season in Milwaukee.
On the national level, festival season begins with Coachella — a two-weekend, six-day gathering 130 miles east of Los Angeles. While throngs of music fans gathered under the warm California sun to hear some of the biggest names in music, Wisconsinites were enduring an utterly unwelcome bout of late April snow.
During the first Coachella weekend, my family and I tried to escape winter's lingering grasp by streaming Coachella via the festival's YouTube channel. When I turned on the stream, Chic with Nile Rodgers was closing out its set. The stage was overrun with dancers. As I looked closely, I spotted a familiar face two-stepping front and center — Angie Swan, Milwaukee's own guitarist extraordinaire.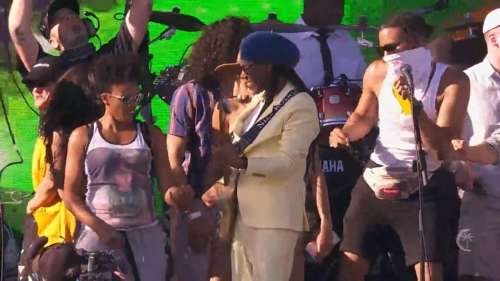 Chic with Nile Rodgers at Coachella 2018, Swan on air guitar.
"I was just standing on the side of the stage watching the band and one of their stage managers asked me if I wanted to go dance," Swan tells me. "The second week, their manager actually found me and asked if I wanted to do it again."
The accomplished Swan wasn't just at Coachella to enjoy the music — a few hours after Chic's set, Swan lit up the stage as part of David Byrne's 11-piece ensemble.
Grooving next to Nile Rodgers was a modest warm-up for the complex choreography that Swan and company execute as part of the American Utopia Tour, which Byrne describes as "the most ambitious show I've done since the shows that were filmed for Stop Making Sense." In May, they brought this visionary production to the Riverside Theater in Milwaukee and the Orpheum Theatre in Madison.
Swan takes flight
Angela Johnson-Swan has had an interesting journey from Wisconsin to working alongside the music world's upper echelon. A Sherman park native and Milwaukee High School of the Arts graduate, Swan attended the prestigious Berklee School of Music in the early 2000s. During that time, the music industry was going through dramatic changes — she auditioned on cassette tape, worked on school projects on mini-disc and, by the time she graduated, everything was digital.
When Swan left Berklee, the days of investing in raw, unproven talent were long gone. The music industry was losing money and had become more cut-throat. When Swan arrived in Los Angeles, she had to sink or swim. On her third day in town, she got a call from Courtney Love, who was looking for someone to play guitar with her while she wrote songs in a studio.
"That only lasted for a few days and I realized L.A. was like hills and valleys, things come and go," says Swan.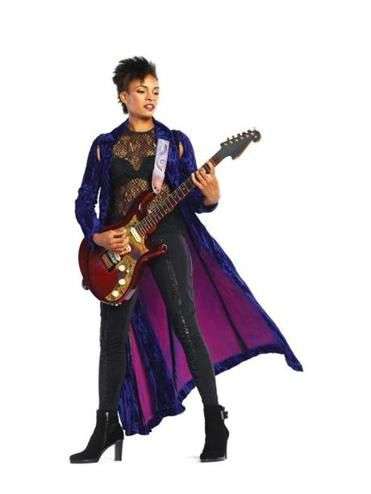 Swan in Cirque du Soleil's Amaluna.
Using her natural charm and networking skills, Swan worked with unsigned artists and did other small gigs in between major auditions and bookings. She has played in backing bands for will.i.am, Macy Gray, Boney James, and Fifth Harmony. She has shared the stage with Stevie Wonder and auditioned for Prince. She did a demanding three-year run in the Cirque du Soleil production of Amaluna. During her years on the road, Swan kept her hometown in her heart, even traveling with a cheesehead.
"When I lived on the East Coast people thought I was from the West Coast, and when I lived on the West Coast people thought I was from the East Coast, but I was always proud to say I'm from here."
At the end of 2014, Swan left Cirque du Soleil and returned to Los Angeles. She found a new crop of musicians had moved to town and there was much less work to go around. Tapping her contacts in Europe, Swan reinvented herself as a clinician and began speaking with students in France. This led her to a gig in India, where she was marooned in an airport for four days amid a devastating monsoon.
"The embassy called my mother in Milwaukee, so she was freaking out. At that point I was like, 'I think it's time for me to come back to the States.' I was lucky enough to make it back home, so I figured I had to stay for a while. It put life in perspective."
'Playing from their heart'
Swan quickly became involved in the small but vibrant Milwaukee music scene. She played a number of gigs with the New Age Narcissism collective, including the first "Library Loud Days" event at Central Library in 2016. She was also a part of the "Wonder UNCOVERED" ensemble that performed at Turner Hall Ballroom in 2017.
"The Milwaukee scene is very relaxing. Not every conversation is about music or hustling or trying to find the next thing. Coming back to Milwaukee and seeing people playing from their heart was really cool. It makes my heart happy to be able to play music for fun."
While she loved the vibe in Milwaukee, there weren't enough paying gigs for her to make a living. As a result, Swan played in an out-of-town wedding band and eventually got a service industry job.
When a professor from Berklee told her about the David Byrne tour, she jumped at the chance. While they preferred that auditioning musicians be based in New York City, where rehearsals would take place, Swan insisted they give her a chance.
Launching American Utopia Tour
After a lengthy satellite audience process, Swan got the gig. She arrived in New York City at the end of January and went through an intense, monthlong rehearsal process that allowed only two days off. The tour kicked off in March and runs until early October, comprising over 130 performances.
"They told me there'd be choreography for the show, but I didn't realize until I got there that the entire show would be choreographed," says Swan of the demanding physicality of the American Utopia Tour.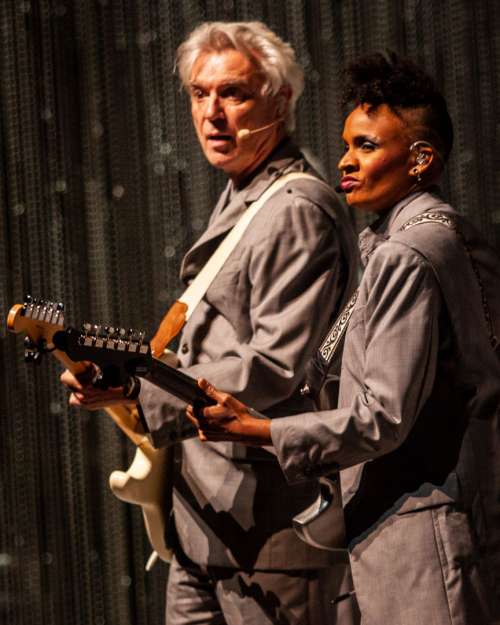 David Byrne and Angie Swan, live at The Auditorium Theatre Chicago (Illinois Entertainer)
Photo by Philamonjaro
When the tour landed in Milwaukee on May 14, the show the next day at the Riverside had long been sold out. Swan spent a busy 36 hours with loved ones, checking on her apartment and recommending activities for her bandmates. May 14 was Byrne's 66th birthday, so Swan took him and the band out to dinner at Balzac.
By the way, Byrne is no stranger to working with guitarists from Milwaukee. He came to prominence in the seminal 1980s post-punk band Talking Heads, which featured Milwaukee guitarist and keyboardist Jerry Harrison. A few years back, Harrison was on hand to introduce Stop Making Sense at the Milwaukee Film Festival, which has since become a staple of the two-week cinephile affair.
'From Milwaukee, Angie Swan!'
The last time I Swan play, she was cracking jokes and ripping solos while standing on a chair at the intimate Jazz Estate, part of her monthly Funk Night series that she hosted before leaving for New York.
"I get more nervous in front of small groups of people," admits Swan. "It's so much more intimate, you're so much closer to them. When you're on big stages and the lights are on you, you don't really feel it. Now I just get this adrenaline rush."
Swan displayed no signs of nerve when I ran into her outside the Riverside before the show. During the show, Swan executed the choreography with panache and impressed the audience with multiple guitar solos.
Despite no video screens or projectors, Byrne and company put on an incredible production. It was especially exciting to see Swan's silhouette on the metal chain "curtains" and hear Byrne exclaim during the band introductions, "From Milwaukee, Angie Swan!" She then blew the audience a kiss after touching her heart. The roar of the crowd was almost as loud then as when she nailed a solo during the show's penultimate song.
"It felt great. It was my first time playing the Riverside and I couldn't think of a better living artist to debut on that stage with."
Swan has gone from playing Caroline's jazz club while wearing braces to melting faces all over the globe. She is a shining example that you can make it from Milwaukee to the international stage with the right amount of support, tenacity, and skill.