David Byrne's utopic show at Kauffman Center had everyone dancing
Photo: SUSAN PFANNMULLER
BY BILL BROWNLEE
David Byrne and his 11-piece ensemble resembled the innovative marching band of an elite art school at Muriel Kauffman Theatre at Kauffman Center Thursday night. The capacity audience of 1,800 was compelled to dance for much of the percussive 100-minute concert.
Talking Heads, the seminal band fronted by Byrne, disbanded in 1991, but he continues to generate groundbreaking art. Byrne's American Utopia Tour is a visual and musical masterstroke.
A flag-draped mannequin used as a prop during a provocative opening performance by the experimental British musician Benjamin Clementine was the sole figure on stage that wasn't in constant motion.
Barefoot and wearing matching gray suits, Byrne's troupe engaged in a flurry of synchronized perambulation on an empty set framed by curtains of silver beads.
Each tireless musician bore his or her instrument, an achievement that made Byrne's assertion that "everything you hear is being played by these incredible musicians" all the more remarkable.
Each of the 21 selections was augmented by creative lighting and unique choreography. The tone ranged from the solemnity of a Supreme Court hearing during "Dog's Mind" to the rambunctious flair of a glitzy jukebox musical on "Dancing Together." A five-person drumline propelled the polyrhythmic "I Zimbra."
Byrne sang "if I could dance better, well, you know that I would" on "Dance Like This." His moves may not pass muster at a ballet recital, but his often ridiculous flailing remains ingratiating.
A master of irony, Byrne slowly stretched as fans danced ecstatically to "This Must Be the Place (Naive Melody)."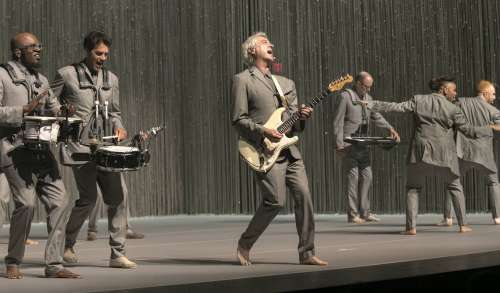 Photo: SUSAN PFANNMULLER
The presentation elevated lesser material. The studio version of "Every Day Is a Miracle," one of six songs on the set list from Byrne's new album "American Utopia," resembles a Paul Simon throwaway. The live reading became an exuberant celebration of life.
The repeated mantra of "same as it ever was" on "Once in a Lifetime" was happily accurate.
Byrne made few of what he characterized as "little references to politics," yet there was nothing insignificant about the most bracing moment of the concert.
A furious cover of Kansas City, Kan., native Janelle Monáe's "Hell You Talmbout," an incensed roll call of slain African-American citizens, ended the show with a resolute call to action.
The production didn't include video screens or mirrors to provide an overhead view of the ensemble's routines. Had such a perspective been provided, Byrne and his collaborators might have conducted a series of formations that rightly spelled out the words "year's best concert."
Set list: Here; Lazy; I Zimbra; Slippery People; I Should Watch TV; Dog's Mind; Everybody's Coming to My House; This Must Be the Place (Naive Melody); Once in a Lifetime; Doing the Right Thing; Toe Jam; Born Under Punches (The Heat Goes On); I Dance Like This; Bullet; Every Day Is a Miracle; Like Humans Do; Blind; Burning Down the House; Dancing Together; The Great Curve; Hell You Talmbout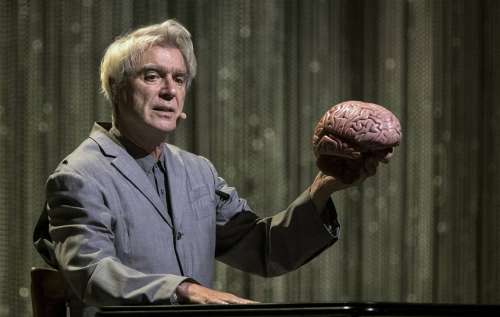 Photo: SUSAN PFANNMULLER