Photos: 5 reasons to catch David Byrne's live show
Via AXS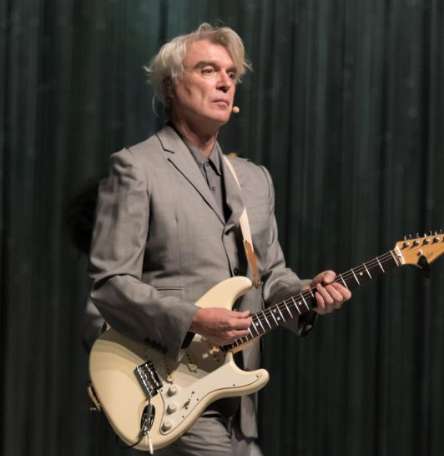 Photo by Mary Andrews
By Mary Andrews
Former Talking Heads creator and front man, David Byrne, is on tour supporting his new album release American Utopia. American Utopia is Byrne's first solo album in 14 years with a mission of finding things to feel good about. The tour is in full throttle with sold out shows across the country with stop offs in Canada and Europe. This busy tour extends into October. AXS was able to catch the show in Tucson on April 15 and it was stunning. Here are some reasons to see this show.
1) Because it's David Byrne
Byrne needs no introduction. He laid the foundation of his career with his band Talking Heads. He was the founder, chief songwriter, lead singer for the highly successful new wave band. They disbanded in 1991. From there, he has continued with a solo career that has garnered him an Oscar, Grammy Award, a Golden Globe and many other awards. He was inducted into the rock and Roll Hall of Fame in 2002. One would think that Byrne would be comfortable resting on his laurels, but nothing could be further from the truth. Byrne has managed to create a concert masterpiece.
2) Timeless music
The show was all about the music. There ten songs from American Utopia. The rest of the 21-song set was primarily Talking Heads classic songs. "Once in a Lifetime" and "Burning Down the House" got the most applause and sing-a-long. After the opening song "Here," the bulk of the crowd was up and dancing. The Talking Heads songs were re-arranged with dance rhythms that made the songs sound very fresh and inviting.
The final encore was Janel Monae's "Hell You Talmbout." Byrne updated the song with permission to reflect today's events. It is a lament about senseless killings and a call to action. For a complete set list, click here.
3) Incredible choreography
The show takes "art-rock" to the limits giving the participant the most amazing live music experience possible. The set seems to have a minimalist appearance on first look. The only props on the stage are a small table, chair and a plastic brain. There are no instruments. However, the show managed to be a bonanza for all human senses even though the stage was bare.
Byrne worked with choreographer Annie-B Parson to create the dance art portion of the show. There were no fixed points on the stage. The stage was set up like a box. One wrong move could have created a disaster. Everything was spot on.
All performers including Byrne constantly changed position on stage and sometimes off stage. The configurations of the performers constantly changed along with the lighting and the music.
4) A young cast of musicians and dancers
Byrne is touring with an 11-piece band with mobile instruments. This is much like a marching band without the stale sound of many marching bands. There were six percussionists. Bobby Wooten played bass guitar. Angie Swan played guitar. Byrne occasionally played guitar. The rest of the instruments were harnessed on the bodies of the players. This allowed for the extreme mobility that each member had to have. Karl Mansfield played keyboards. Aaron Johnston played snare drum with a high hat attachment. Chris Giarmo was Byrnes right-hand singer and dance man. The band was able to shift from rock to funk to an array of Latin and African music styles. Everything was done with extreme precision.
5) Partnering with HeadCount
Byrne is known to be very charismatic. There was very little banter during the set. At one point early in the show, Byrne mentioned that they had partnered with HeadCount, an organization that registers people to vote. He emphasized the importance of local elections. "Local elections may make a bigger difference than ever before."
Grab your tickets for this amazing show here.