David Byrne's 'American Utopia' tour an ambitious artistic triumph, same as it ever was
Via AZ Central
By Ed Masley
I had read a quote going into the sold-out performance from David Byrne promising, "This is the most ambitious show I've done since the shows that were filmed for 'Stop Making Sense' " — which, if you haven't seen it, is perhaps the greatest concert movie ever made.
But I was not prepared for the extent to which Thursday's performance at Mesa Arts Center would live up to that audacious promise.
As fans awaited Byrne's arrival, a single spotlight was trained on a model of the human brain as it sat on a folding table in the middle of an otherwise empty stage.
Byrne and a brain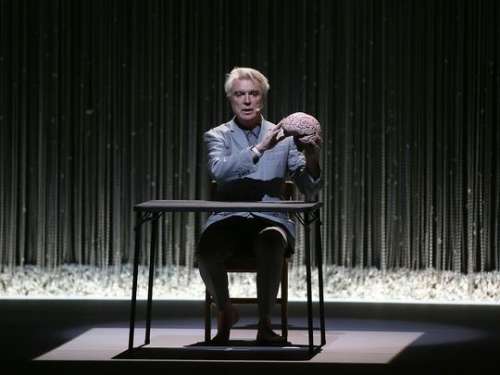 Photo: Ralph Freso/Special for azcentral.com
For the opening song, Byrne was seated alone at the table in a gray three-button suit singing "Here," a haunting highlight of "American Utopia" about the inner workings of the human brain, while using the model as a visual aid, as though teaching a class.
"Here is a region of abundant details," he sang. "Here is a region that is seldom used / Here is a region that continues living / Even when the other sections are removed."
By the final verse, he was joined by his two backup singers, who sat at the table harmonizing with his vocals as he paced back and forth at the front of the stage.
The other members of the 12-piece ensemble — six percussionists, bass, guitar and keyboard — wandered on stage during "Lazy," completely "untethered," as promised — no amps, no guitar cords, no pedal boards, nothing to hamper the freedom of their movements.
Amazing at 65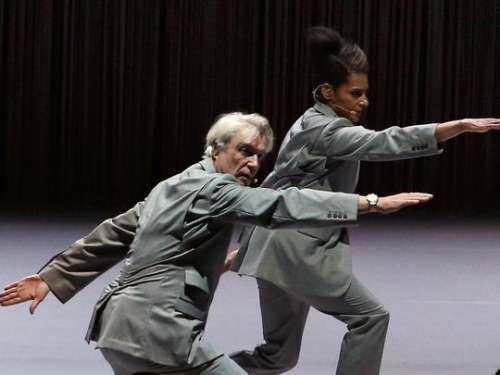 Photo: Ralph Freso/Special for azcentral.com
And this show was all about movement, its artful – and at times amusing – choreography playing to the singer's strengths as one of rock's more idiosyncratic live performers while the groove had people dancing in their seats for almost the entire set..
It was innovative and visually striking, eschewing the 21st Century brand of spectacle pop fans have come to expect in favor of something much closer to minimalism.
There were no video monitors, for instance. But the lighting did throw giant shadows of Byrne and his bandmates on the metal rope curtains surrounding the stage – the same curtains through which the players came and went as needed.
Byrne, now 65, was in amazing form, singing and dancing his way through a set that included no fewer than seven of the 10 songs on "American Utopia," his latest album, without skimping on the Talking Heads material.
And he seemed to be having a blast, his grin as contagious as ever.
There were eight Talking Heads songs, including such obvious highlights as "I Zimbra," "This Must Be the Place (Naive Melody)" and "Once in a Lifetime," bringing the set to a powerful close with the one-two punch of "Blind" and "Burning Down the House."
He opened the first of two encores with "Dancing Together" from "Here Lives Love," a collaboration with Fatboy Slim inspired by the life of former Philippines first lady Imelda Marcos.
Back to the Talking Heads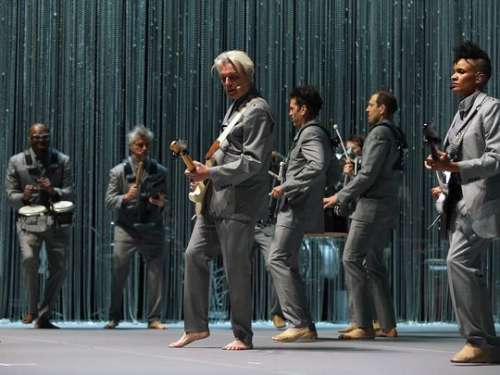 Photo: Ralph Freso/Special for azcentral.com
Then he reached back to the Heads days for "The Great Curve," taking a spirited Whammy bar solo before turning the spotlight over to guitarist Angie Swan, who proceeded to tear it up on the flashiest lead-guitar work of the night.
All 12 members played percussion on the second encore, an impassioned cover of Janelle Monae's "Hell You Talmbout," a protest song naming black men and women who have died in encounters with law-enforcement officers, demanding "say his name" (or "her name") with each mention.
It proved a provocative, powerful ending to a show that made it clear that Byrne is comfortable enough with the legacy he carved out in those early years to end the set with "Burning Down the House" while also serving notice that he isn't selling an easy nostalgia fix.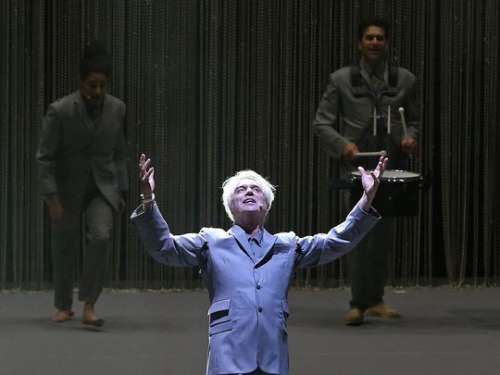 Photo: Ralph Freso/Special for azcentral.com
Setlist
Here
Lazy
I Zimbra
Slippery People
I Should Watch TV
Dog's Mind
Everybody's Coming to My House
This Must Be the Place (Naive Melody)
Once in a Lifetime
Doing the Right Thing
Toe Jam
Born Under Punches (The Heat Goes On)
I Dance Like This
Bullet
Every Day Is a Miracle
Like Humans Do
Blind
Burning Down the House
Encore
Dancing Together
The Great Curve
Encore 2
Hell You Talmbout