Review: David Byrne Gives Indy a Once in a Lifetime Performance
Via Nuvo
By Seth Johnson
The imagination of David Byrne truly has no limits, as fans of the esteemed music legend learned firsthand on Saturday night at the Farm Bureau Insurance Lawn.
One of Indy's most anticipated summer concerts lived up to all expectations, as Byrne presented an overall spectacle, complete with lights, choreography, political statements, and a musical presentation unlike any other. Rather than the typical rock 'n' roll stage setup, the former Talking Heads ringmaster assembled a crew of exuberant musicians to march around the stage, as they played wirelessly in unison. This immaculate, amps-free presentation was one that felt unbelievable at times. But again, this is David Byrne we're talking about.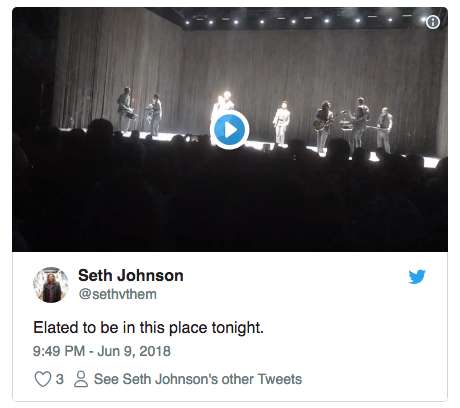 Much to the delight of fans, Byrne played a career-spanning set, complete with several solo works as well as many Talking Heads selections. To open things up, he performed the song "Here" from his 2018 album American Utopia, following it up with, "Lazy," a song that's featured on his 2004 solo album Grown Backwards. From here, Byrne began intermingling in Talking Heads songs into his set, kicking the fun off with "I Zimbra" and "Slippery People," before eventually unveiling favorites like "Burning Down the House," "Once In A Lifetime," and "This Must Be the Place (Naive Melody)."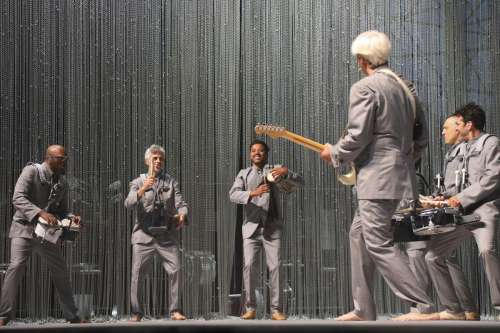 Photo by Zac Steger
Much like his instrumental setup, Byrne's stage and lighting techniques were also delightfully minimal. At times, one single light source would illuminate the entire stage, as giant shadows would project up onto the Lawn stage for all to see. In addition to these artistic statements, Byrne made sure to get a few political points across, at one point encouraging the crowd to stay active in their local and regional elections.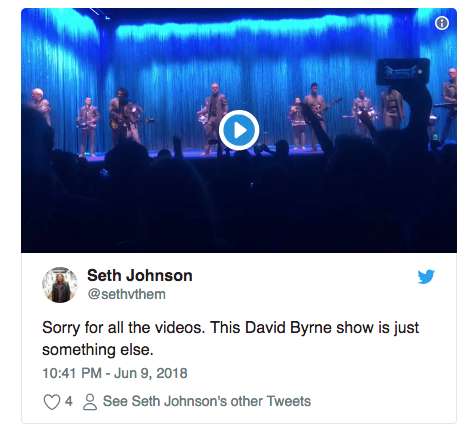 To close out the show, Byrne and company led the crowd in an updated version of Janelle Monáe's "Hell You Talmbout"—a song that speaks to unjust police violence towards Black Americans. "Eric Garner, say his name," yelled Byrne and company in unison, encouraging the crowd to join along. The moment was both beautiful and powerful, serving as the perfect conclusion to an utterly stunning presentation from Byrne and his crew.