Review: David Byrne, SSE Hydro, Glasgow, five stars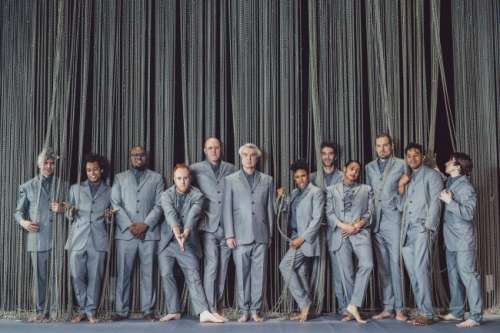 By Keith Bruce
Music
David Byrne
SSE Hydro, Glasgow
Keith Bruce
five stars
OF COURSE, everyone who had seen this show in the more intimate environment of Glasgow Royal Concert Hall claimed that had been the better night, although it was also telling that a good few had returned to enjoy it again only four months later.
And, as far as those of us who were unable to be there in June could tell, this incarnation of David Byrne's American Utopia was almost exactly the same, to the extent that its architect felt obliged to point out minor variations from his last visit. This is the sort of attention to detail that makes the former Talking Heads frontman such a unique former.
The difference, of course, was a matter of scale and although the ingredients were identical, this is a production beautifully fashioned to be dropped into an arena, its self-defined shimmering curtain box occupying the void in a way that could never be achieved in a wood-panelled concert hall. Of all the international superstars I have seen in this venue since it opened, only Prince has pulled off the same trick of drawing focus, albeit in an entirely different way.
Of Byrne's sensational eleven-piece band, six are percussionists and two – Tendayi Kuumba and Chris Giarmo – are chiefly backing vocalists (although Giramo blows a mean melodica). Which means that there are only three melody instruments onstage, the bass of Bobby Wooten, Angie Swan's guitar and Karl Mansfield wearing a programmable keyboard on the sort of brace used by video cameramen. The arrangements that have been made for these forces are quite masterly, and favour what many would think of as peak-Byrne: Remain in Light-era Talking Heads. His 2002 collaboration with X-Press 2, Lazy, launching the dance groove, I Zimbra, from Fear of Music, sets out the pitch, which comes to an early climax on Once in a Lifetime, Byrne picked up from the floor after a faux-collapse like a latter-day James Brown.
The choreography of the entire ensemble, by Annie-B Parson, is superb, and often hilarious, referencing video moments and dance collaborations from his back pages. There is a political message in there too, but it is targeted squarely at a US audience, as the singer seemed to realise half-way through his somewhat rambling statement.
Who cared? Deliciously off-kilter, and startlingly original, David Byrne is still making sense.