Watch: David Byrne releases choir-backed cover of David Bowie's 'Heroes' ahead of world tour
Via News OK
Written by Brandy McDonnell
Rock and Roll Hall of Famer David Byrne has released an uplifting video of his live cover of the late, great David Bowie's "Heroes" with Choir! Choir! Choir! in the lobby of the Public Theater in New York.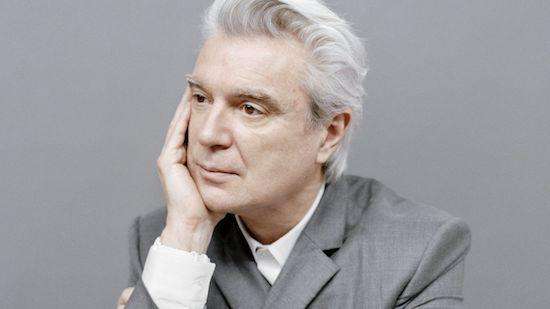 Photo by Jody Rogac
Byrne joined Choir! Choir! Choir!, an open participation singing group, on Jan. 13 for a performance at Under The Radar Festival. He eloquently blogged about the process of getting dozens of strangers to sing together here.
"There is a transcendent feeling in being subsumed and surrendering to a group. This applies to sports, military drills, dancing… and group singing," Byrne writes. "One becomes a part of something larger than oneself, and something in our makeup rewards us when that happens. We cling to our individuality, but we experience true ecstasy when we give it up."
He writes that the group first warmed up by singing Bowie's "Space Oddity," then divided the singers into two groups (low and high) and taught them their parts to "Heroes" for about 45 minutes. As you can see and hear, the results are quite beautiful.
Founded by Daveed Goldman and Nobu Adilman, Choir! Choir! Choir! is perhaps best known for performing Leonard Cohen's "Hallelujah" with Rufus Wainright. Filmed just before Cohen's death, the video subsequently went viral.
Byrne and Choir! Choir! Choir! also covered Madonna's "Borderline" during the Jan. 13 collaboration. Here's a fun snippet:
The former Talking Heads frontman also announced this month an extensive world tour in support of his forthcoming solo record, "American Utopia."
The trek will include an April 25 concert in Oklahoma City at The Criterion, 500 E Sheridan in Bricktown. Byrne will perform songs from the new album, which is out March 9 via Todomundo/Nonesuch Records, as well as classics from his solo career and his days with Talking Heads, according to a news release.
Byrne also recently released the first track from the album, "Everybody's Coming To My House"— co-written with Brian Eno, featuring contributions from TTY, Happa, Isaiah Barr Leader of the Onyx Collective, Daniel Lopatin (Oneohtrix Point Never), Mercury Prize winner Sampha, and others. Here's the invention video for the lead-off single:
During his 2018 tour stops, a 12-piece band will join Byrne on stage for a choreographed concert that he has called "the most ambitious show I've done since the shows that were filmed for 'Stop Making Sense.'"
Tickets are on sale via www.livenation.com. For more information on the OKC date, go to www.criterionokc.com.
-BAM