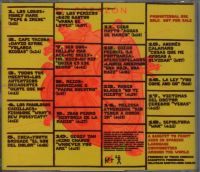 Silencio=Muerte: Red Hot + Latin, The tenth entry in the Red Hot Benefit Series of compilation albums, takes a post-modern look at the contemporary rock en Español scene. This compilation features music from Spanish, Pan-American, as well non-Latin/Anglo-American acts that have either transformed the sounds and images of Latin music or have been influenced by the same.
As with other entries in the series, this project tailors its AIDS-awareness message to a specific target. Here, the focus is on the rapidly expanding epidemic of AIDS in Latin America.
Upon its release in 1997, Silencio=Muerte peaked at #14 and #48 on Billboard's Latin pop and Top Latin Albums, respectively.
The album was re-issued by Nacional Records in 2006 as Red Hot + Latin Redux, including new bonus tracks.