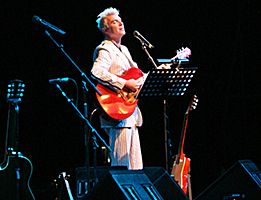 The Century of Song series is a tribute to the great songwriters of the past one hundred years. Guest performers over the past three years have included prominent contemporary songwriters such as Suzanne Vega, Rickie Lee Jones, Patti Smith and Elvis Costello, interpreting their own material in new ways – and their favourite songs by tunesmiths like Bob Dylan, Hank Williams, the Beatles, George Gershwin or Burt Bacharach.
This year the bass is at the centre of the Century of Song. And that is only fair, since it is usually obliged to make do with a discreet background role. It does certainly make a decisive contribution to the flow of a melody, but if one considers that only there is only one concerto for double bass in existence (Karl Ditters von Dittersdorf, 1739-1799), it becomes clear that protagonists of the grumblingly deep sound have traditionally been found in the second row. That sounds plausible, but it is wrong. For the twentieth century was to witness the rise of this instrument, with its roots in the baroque and stemming from the viola da gamba. The pioneers of the genre include double bass stylists like Ray Brown or Charles Mingus (a gifted songwriter and composer in his own right). And another revolution in popular song began when guitar maker Leo Fender first marketed the first electric bass guitar, the "Precision," 55 years ago.
Musician, arranger and producer Greg Cohen is one of the most important bass players on the jazz and rock scene. Since the late sixties he has played in a very diverse range of musical line-ups. Cohen ignores all genre boundaries in his work. He has played with John Zorn, Bill Frisell, Ornette Coleman and Dave Douglas but also with Keith Richards, Lou Reed, Bob Dylan and regularly plays with Tom Waits. In addition, he has also worked on film soundtracks for movies such as Ed Wood and Fried Green Tomatoes. He produced and arranged albums for Holly Cole, Marisa Monte, David Sanborn and others. At his last appearance at the Ruhr Triennale in 2005 he performed with the singer Sanda Weigl. Greg Cohen is taking over from guitarist Bill Frisell as curator of Century of Song.
The overture presents two superlative songwriters in tandem. Founder and frontman of the legendary Talking Heads David Byrne and Grammy winner Joe Henry will open the Century of Song concert series on 19 August and with it this year's RuhrTriennale season. It will be the first time David Byrne and Joe Henry have appeared together on stage and they will present an exclusive programme of both their own songs and cover versions. Accompanying them will be American musician, arranger and producer Greg Cohen, who is also this year's curator of the Century of Song series. Cohen has in the past worked with Ornette Coleman, Keith Richards, Lou Reed, Bob Dylan and regularly collaborates with Tom Waits. David Byrne's appearance at the Jahrhunderthalle Bochum will be accompanied by the chamber orchestra of the Duisburg Philharmonic (conductor: Anthony Weeden). The RuhrTriennale has commissioned the first orchestral arrangements of songs written by David Byrne.
Born in Britain and now living in the USA, David Byrne enjoyed worldwide success as leader of the pop group Talking Heads from 1975 to 1990, one of the most important and musically most challenging bands of the eighties Post Punk and New Wave movements. His solo CD My Life in The Bush of Ghosts (1981), which he recorded together with Brian Eno, is widely regarded as having pioneered the space between traditional music and computer technology. In 1988 he was awarded the Oscar for best film music for the soundtrack to The Last Emperor.
Singer-songwriter Joe Henry can look on nine solo albums issued since his debut in the late eighties. Again and again his work is marked by a constant and surprising movement between soul, jazz, rock 'n' roll and country. At the same time, he is also one of the top producers in American pop music. In 2003 he received a Grammy for the album by soul legend Solomon Burke, Don`t Give Up On Me. His most recent work was on the current album by Elvis Costello & Allen Toussaint. One of his greatest admirers is his sister-in-law Madonna who described him in the New York Times as "a lyrical giant" and who hired him as songwriter for her current album Confessions on a Dance Floor.
- 2006, Ruhrtriennale Programme