Ex-Guru is a 'cover' I did of the Fiery Furnaces tune—the words in the first half are theirs and in the last two verses they are mine. Kind of a new way to collaborate. -DB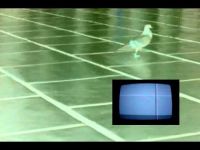 Fifteen years ago, Thrill Jockey Records was founded on the Lower East Side of New York City. In other words, it was 1992, so Thrill Jockey did as many new labels of those days did and released a number of 7" singles, with now-familiar names like Tortoise and Freakwater, and some now-less-familiar early Thrillers like Sugarshock and Gorilla.
In the fifteen years since 1992, the 7" singles have been fewer and farther between, but with some definite gems from time to time. Brokeback made its debut with a fine delight of a single called Returns to the Orange Grove. The Lonesome Organist bended minds with his 7" and its pop-up deluxe cover, and The National Trust made it happen with a 7" tribute to The Raspberries.
Now Thrill Jockey is looking back to that tradition for a way to celebrate fifteen years of making records for our favorite bands. Inspired by the delicious Devil's Jukebox 7" box set released in 1989 by Blast First, Thrill Jockey will release a limited edition, heavy weight vinyl 7" box of our own: Thrill Jockey bands covering their favorite Thrill Jockey songs.
-from thrilljockey.com