Wayne Wang's follow-up movie to Smoke presents a series of improvisational situations strung together to form a pastiche of Brooklyn's diverse ethnicity, offbeat humor, and essential humanity. Many of the same characters inhabiting Auggie Wren's Brooklyn Cigar Store in Smoke return here to expound on their philosophy of smoking, relationships, baseball, New York, and Belgian Waffles. Most of all, this is a movie about living life, off-the-cuff.
-IMDB
By Parry Gettelman for The Orlando Sentinel: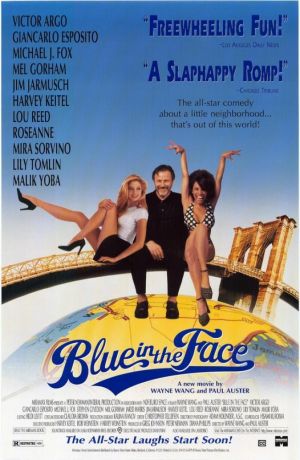 This is one of the coolest soundtrack albums to come out in a while, co-produced by David Byrne and released on his Luaka Bop label. The songs cover quite a broad stylistic range, but all flow together like a beautifully programmed free-form radio station.
Soul Coughing's fractured hip-hop track ''The Brooklynites'' segues into the funky Latin-tinged acid jazz of Mi Barrio's ''La Casa.'' Geggy Tah's quirky, bluesy hip-hop cover of ''Why Can't We Be Friends?'' leads into the sultry jazz of the John Lurie National Orchestra's ''Let's Get Ready to Rhumba,'' followed by the great Astor Piazzolla's classic ''Tango Apasionado''.
Here also are interesting collaborations on individual tracks. Rap group Spearhead teams with Belgian-African female vocal group Zap Mama on the sultry, dub-influenced ''To My Ba-Baby.'' David Byrne and Vijaya Anand's Anand Film Music Orchestra come up with a kind of Pet Sounds-goes-to-India fusion on ''Happy Suicide.'' Somehow, Lou Reed's laconic ''Egg Cream'' sounds perfectly natural right after that.
The bits of dialogue from the movie are superfluous after a spin or two, and some of the songs have been released before. But one of those is the stunning David Byrne-Selena cut ''God's Child,'' so now you can get that without having to buy the Selena album.