Fischerspooner is: Casey Spooner and Warren Fischer.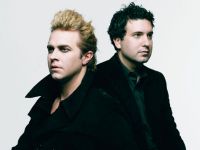 David wrote the lyrics for the track "Get Confused," which was added to the album at the last minute. However, DB doesn't sing on the album. The vocals for the track were contributed by Mire Billote.
From an interview with Fischerspooner in Self-Titled Magazine:
With the last record, did people ask more about "what it was like working with David Byrne" than the actual songs?
Actually, it was weird. People didn't fixate on that stuff as much as I thought they would, especially the David Byrne part. When I tell people now that ["Get Confused"] features old Talking Heads lyrics from 1976, it's like nobody knew that.
I didn't.
Exactly. And that was huge. It didn't feel strange using someone else's words, either. I identified with them so intimately that I forgot he wrote them sometimes.
Was it unused lyrics from a specific song?
No, he sent me three sets of lyrics he found in a box.