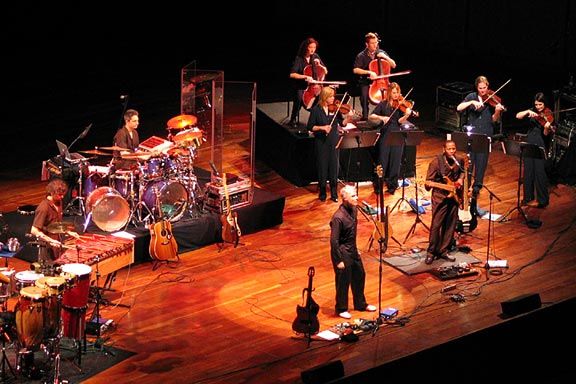 David Byrne has taken his share of musical journeys in three decades, turning Talking Heads from egghead rockers into a funk orchestra, playing Latin music and scoring films and a ballet.
But opera?
Even his new record company was suspicious when Byrne submitted a disc that includes a piece from "La Traviata," sung in Latin, and a duet with Rufus Wainwright on a Georges Bizet piece sung in French.
Yet the tracks are oddly compelling, and play a key role in "Grown Backwards," Byrne's most melodic and accessible solo album.
"I think they were the crowbar that I used to open myself up emotionally and vocally," Byrne said.
Byrne had initially recorded "Un di Felice" from "La Traviata" when he was asked to contribute a song for the end credits of the movie "Dirty Pretty Things."
The emotion of the piece -- when Alfredo first expresses his love for the doomed Violetta -- fit what he felt at the end of the movie.
"The conventional wisdom is that a singer sings because they're feeling something strongly and the song is the way to express that," Byrne said. "I think it's the other way around. The song is the lever or the tool that allows the emotion to be extracted."
Perhaps weirded out a bit, the moviemakers rejected it. They would have preferred a Byrne original. But Byrne enjoyed the experience, and he invited the intensely romantic singer Wainwright to duet on "Au Fond du Temple Saint" from Bizet's "les Pecheurs de Perles."
Byrne's only a casual opera listener, and he prefers to think of the material as pop songs of their era.
"We were certainly most curious to hear how it would turn out," said David Bither, senior vice president at Nonesuch Records. "When we finally heard what he had done, even in our most optimistic moments, we were not prepared for how beautiful and successful they were."
The emotions Byrne let out singing opera freed him to try some new things on his own songs.
"I realized it was possible for me to do certain kinds of arrangements or songs that I probably would have cringed at or shied away from doing otherwise," he said. "I might have thought, `This is way too corny. Look how pretty it sounds. This is disgusting!"'
Byrne being Byrne, his oddball lyrics temper things somewhat.
The song "Civilization" is about a first date, filtered through a discussion of table manners. In "Glad" he sings about being thankful for some of the things you normally wouldn't be thankful for.
(He points out, though, that the lyric, "I'm glad when I get my girlfriends' names confused," is strictly fictional.)
While at its heart a pop record, two aspects of "Grown Backwards" are unique for Byrne: the central role of strings and downplaying of rhythm.
Even before Talking Heads expanded and laid bare funk and African influences, Byrne's rock 'n' roll had always had a strong percussive punch.
So it's striking that only one of the first six cuts on the disc, which was released last week, features a full drum kit.
Byrne has routinely used beats and rhythm as the building blocks for his songs. This time, he started with melody. He carried a tape recorder and would sing or hum melodies when they came to him.
"It's a kind of really traditional songwriting, an operatic songwriting, which I've always kind of looked askance at," he said. "But here I am doing it."
On his last concert tour, Byrne experimented with a string section. This time, he used strings as integral parts of the instrumentation -- not simply as sweetening, as they're used in many pop songs.
A stack of sheet music on a table in his SoHo office -- topped by the Talking Heads' hit, "Life During Wartime" -- is an indication he'll use that approach on some old songs during an upcoming concert tour.
The gray-haired Byrne, 51 and newly single, is caught in a frustrating career trap. He's revered for past work -- Talking Heads were inducted into the Rock and Roll Hall of Fame in 2002 -- yet has a hard time attracting attention to anything new.
He has to catch himself when someone notices him on the subway and asks, "Where's the big suit?" or mimics the hand motions Byrne used during the "Once in a Lifetime" video.
"I have to remind myself, `David, don't complain. The fact that you did something and it was exactly what you wanted to do creatively and people really liked it, that's a kind of rare opportunity to have."'
What he holds himself back from saying:
"Hey, guy, I've been active for the last 15 years! I haven't been sitting on my butt! I've done a lot of stuff, and it's not all artsy-fartsy stuff. Some of them are regular records. And the fact that I don't get played on MTV or the radio, it's not my fault!"
Then again, he said, "there are a lot of people who can say the same thing who are making great records."
-Associated Press Feature, March 22, 2004