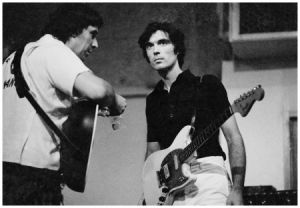 Walking on Locusts is a studio album by Welsh multi-instrumentalist John Cale. It was released in 1996 by Hannibal Records. Cale worked with several guest musicians including David Byrne, Maureen Tucker and Erik Sanko.
From an interview with John Cale with Chris Morris, for Billboard:
Many of the songs on the album were created out of music Cale had stored in his home computer. One found item led to the composition of the track "Crazy Egypt," a collaboration with David Byrne.
"I pulled out all the stuff that had ben sitting there for a while doing nothing [to] see if there was any hope for it," Cale recalls. "And one of the pieces that popped out was this bass part I'd written that really was very much a Talking Heads bass part. I asked Dave, who's a good friend, and he came in, and it was done very quickly. He put a guitar part down."