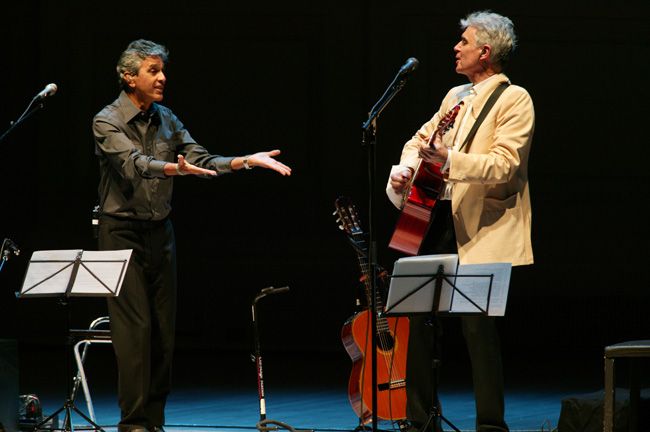 In Mr. Carnegie's Hall
For a number of years, Carnegie Hall has been doing a series program called Perspectives in which an artist is chosen to be Carnegie Hall's in residence performer. When chosen, the artist can invite along other musicians to join them as guests. It is an extraordinary series, as the artist chosen is encouraged to pull from all sorts of genres that inspire and interest them. Kronos Quartet did an adventurous program, but it was Caetano Veloso who was the first non-classical artist to be invited to curate one of these programs. I remember, as part of his program, Virginia Rodriguez did a show at Zankel Hall and Caetano asked me to join him for a concert in Stern Auditorium—the big hall.
We'd actually done a concert together previously during the San Sebastian Film Festival. Despite being in a velodrome (which might have seemed appropriate, for me at least), it worked. The combination of the two of us seemed to be very unexpected (and pleasantly surprising) for the audience—though it was not for us. We'd been in touch for a while and had even written a song together. He had recently recorded one of my songs and I had performed one of his on one of my tours. So, we knew one another's work fairly well. The idea of doing a concert together seemed obvious to us.
I'd been a Caetano fan since the late 80s, when I fell headlong down the rabbit hole of Brazilian music. If I had to name some musicians (composer is the word that is used in Brazil) to whom I would look to as a guide to what is possible—those that sustain a creative and interesting life in music—Caetano would be among the top few. I won't try and describe what Caetano does because he is incredibly varied and not easy to compare with anyone in North America or Europe. If you're unfamiliar with his work you might want to try more than one record, as they can be very different from one another.
The concert we did was very stripped down and acoustic. Although I have brought a full band into Carnegie Hall before, the acoustics in there really favor small acoustic ensembles (you almost don't need microphones), so that's what we went with. Jaques Morelenbaum augmented us on cello and Mauro Refosco on percussion—the arrangements stayed pretty sparse and minimal in order to better emphasize the songs.
I was incredibly nervous, and I remember having flubbed on a chord or two (some of those remain on this recording, I'm afraid)… but of course it was Caetano and Carnegie Hall, so I was also incredibly thrilled and flattered.
-DB
Western Chelsea
2012