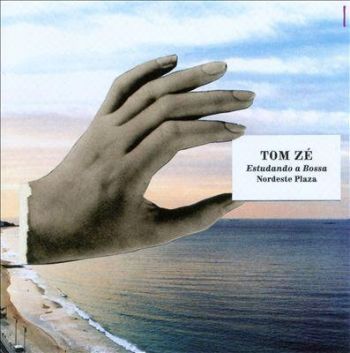 Brazil is a country that is blessed with a cornucopia of big personalities and talented musicians, so for one individual to stick out amongst the masses in both regards is a sign of someone special and Tom Ze is exactly that. His larger than life personality seems to bring equal or even more notoriety to him than his music. This is not a bad a thing however, as the music perfectly mirrors the personality. He is unconventional, comical, clever and always innovative and that is exactly what his album "Estudando a Bossa – Nordeste Plaza" is as well.
Released 50 years after "Chuage De saudade", it serves as part tribute to bossa nova, part commentary, part comedy. Those who can understand Portuguese will be treated with funny anecdotes on almost every track. His subject matter varies from a comprehensive summary of all the criticisms the genre of bossa nova has had on one track, to suggesting that all songs and artists that employ the bossa nova style should compensate Joao Gilbertoon another track.
The conceptual aspects of the album alone set it apart from any bossa nova recording before or after but the purely musical aspects are also noteworthy and enjoyable. Tom Ze employs the same degree of experimentation that he is famed for throughout the album. Whether it be his trademark vocal style that is somewhere between singing and talking with occasional whispers or his use of unconventional instrumentation in the form of outlandish percussion and electric guitars the album is filled with unusual elements that all come together well.
As if the creativity and intelligence of the album and the man were not impressive enough Tom Ze can also be credited with putting it all together in what is a cohesive and consistently enjoyable album that never forgets about its central focus – bossa nova. This is no easy feat as the album has a featured artist on every track. This includes a bevy of modern Brazilian female vocalist such as Jussara Silveira and Tita Lima and even Scottish alternative rock musician David Byrne. Despite all the aforementioned eccentricities, there is still a commitment to present genuine bossa nova musical elements which are present on every track in the form of the melodic composition and drum patterns.
Estudando a Bossa – Nordeste Plaza is an album that will make you think, make you laugh and even one that may make you dance. The album is deceptively witty and intricate and is an impressive, albeit unusual, homage to the genre: innovative, fun, clever and always original.
-Album of the Week, bnova.com