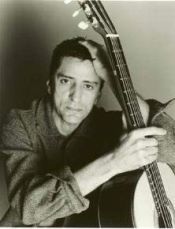 What better way to acquire a fresh perspective on bossa nova music than from a distance? That was Brazilian singer-songwriter Vinicius Cantuaria's thinking when he moved from Rio de Janeiro to New York in the mid-'90s and began collaborating with a wide assortment of pop and jazz musicians.
Cantuaria's latest release, simply titled "Vinicius," was occasionally the focus of his performance at Blues Alley on Wednesday night. The album features such guest artists as David Byrne, Bill Frisell and Brad Mehldau, and though none of these musicians is touring with Cantuaria, their influence was often felt.
"Rio," for example, a tune Cantuaria wrote with Byrne, cast a rhythmically haunting spell. One could also detect in Cantuaria's amplified guitar playing more than a hint of Frisell's fondness for elliptical single-note runs and quirky chordal stabs. The sharply syncopated "Odara" certainly owed a lot more to funk guitar styles than to bossa nova's gently revolving bass note and chord patterns or even a typical samba clave groove.
For all his American influences, though, Cantuaria remains entranced by the music of his homeland, as his performance of Antonio Carlos Jobim's "Ela e Carioca" swiftly demonstrated. Singing in Portuguese, Cantuaria projected a seductive tone throughout the opening set, his tenor croon often set against a backdrop of rustling rhythms. The quartet arrangements, frequently streaked with the muted sound of Michael Leonhart's trumpet, Joe Martin's acoustic bass and Paulo Braga's percussion, quietly added to the music's soulful, sensuous and, yes, decidedly fresh allure.
Mike Joyce, for The Washington Post