Bourbon & Beyond In Photos - John Mayer, Lenny Kravitz, Sheryl Crow & David Byrne Live In Louisville
Via Forbes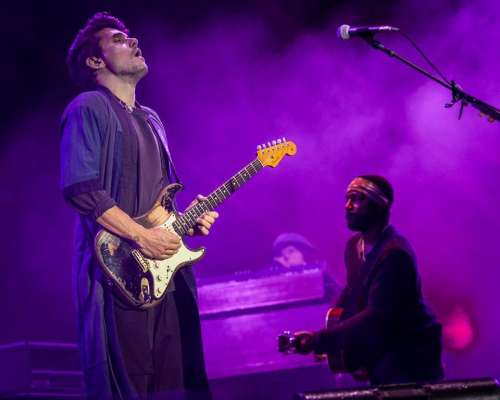 PHOTO BY PHILAMONJARO STUDIO
By Jim Ryan
Despite rain that caused mud Saturday and a full cancellation of Sunday's concert slate, Bourbon & Beyond concert performances went off as scheduled Saturday, September 22, 2018 at Champions Park in Louisville, Kentucky featuring sets by Joseph, JJ Grey & Mofro, Keb' Mo', Brian Setzer's Rockabilly Riot, Sheryl Crow, David Byrne, Lenny Kravitz, John Mayer and more.
Taking full advantage of its proximity to Kentucky's famed "bourbon trail," Bourbon & Beyond featured over fifty different bourbons, a Bottle & Bond Kitchen and Bar pop-up from the Bardstown Bourbon Company, plus elevated culinary experiences and panel discussions featuring celebrity chefs like Aaron Sanchez, Tom Colicchio and Stephanie Izard.
As music fans continue to demand more of the destination festival, Bourbon & Beyond offers an immersive experience for concertgoers and campers alike that's unique thanks to the way it pairs music alongside terrific food and drinks in an affordable atmosphere just south of the Ohio River in downtown Louisville.
"Bourbon & Beyond is bringing together a lot of people that may not have necessarily had a strong connection to bourbon," said Bardstown Bourbon Company President and CEO David Mandell. "They like the food and culinary side. They're music fans. But you also have bourbon aficionados. It's bringing together all three of these components in one place," he continued of the festival, now in its second year.
David Byrne revisited the Talking Heads before wrapping up his set with a politically charged cover of Janelle Monae's "Hell You Talmbout," while Brian Setzer tore through Stray Cats hits like "Stray Cat Strut" and "Rock This Town."
But Saturday's performances were also heavy on 90s firepower as delivered by artists like Lenny Kravitz and Sheryl Crow.
"I'm 56, I'm a woman and I've got a song on the radio!" shouted Crow proudly Saturday afternoon.
It was a reference to her latest single, "Wouldn't Want To Be Like You," which, on record, features one of the most intriguing voices in contemporary pop or alternative music: Annie Clark (AKA St. Vincent).
While St. Vincent wasn't present Saturday, massive Crow hits were. "If it Makes You Happy" opened a set that operated as a master study in "90s 101," featuring hits like "Every Day is a Winding Road," "All I Wanna Do," "My Favorite Mistake" and "Can't Cry Anymore" following consecutively.
But while John Mayer headlined Saturday night – leaving his pop history in favor of a deeper dive into the American songbook via covers of artists ranging anywhere from Bob Dylan to The Grateful Dead – the second edition of the Bourbon & Beyond festival belonged to Lenny Kravitz.
Stagehands tried frantically in vain to dry the rain-soaked stage as precipitation continued to fall. "Good evening, Louisville, Kentucky!" said Kravitz laughing.
His backing band grew to seven as a horn section joined for "Always on the Run" but it was a sing-a-long numbering in the thousands that highlighted the weekend as Kravitz and company tore through his biggest hit "Are You Gonna Go My Way" to close his set.
"Thank you for staying out in the rain for us," said Mayer as Bourbon & Beyond 2018 drew to a close.
(Words by Jim Ryan, photos by Philamonjaro Studio)