Caetano Veloso Takes in David Byrne's "American Utopia" Tour
Via Nonesuch Records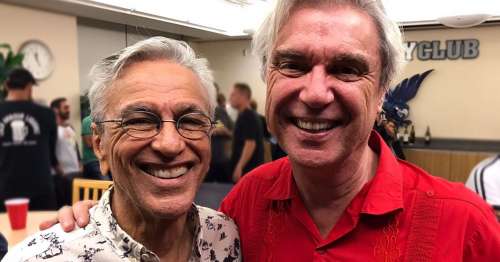 ​
Caetano Veloso and David Byrne caught up backstage at Byrne's American Utopia concert at Monmouth University's OceanFirst Bank Center in West Long Branch, New Jersey, on Friday, and Veloso took in the concert from the crowd. He shared his beautiful response to the show on his Instagram, roughly translated from the Portuguese added here.
The David Byrne (American Utopia) show is incredible. I always said that he is the most chic of rockers. And that's what it is. But in this new show there is a life, a freedom, a luminous energy that is a force to counteract the feeling of low spirit that lives in the world. Being in Trump's America and receiving the news we receive from Brazil is the opposite of being in an auditorium before David's music and stage. I am more proud to be your friend. In the show, each song is a well-developed stage piece. The quality of the choreographies lies in their giving up their intrinsic level and putting themselves at the service of the popular concert structure. Whoever saw it in Brazil knows what I'm talking about. What a beauty to have seen it here now. The musicians, all with wireless amplified instruments, dance and contrast with David so as to make each number better say what the verses and rhythmic-melodic phrases say. It creates a climate of genuine joy and beauty and a challenge to the baseness that rolls over and threatens to crush us. And there's Gustavo Di Dalva (a percussion genius from Bahia that I've known as a teenager), Mauro Refosco and Stephane San Juan. Friends. It is one of the most beautiful rock or pop concerts ever made and is unlike any other.
He then suggests that folks listen to Veloso and Byrne's 2012 Nonesuch album, Live at Carnegie Hall. You can see his other photos and video from the show on Instagram.
The American Utopia tour continues this week with a sold-out show in Portland, Maine, a concert in Syracuse, and a set at the CityFolk Festival in Ottawa, before hitting New York City for a show at Forest Hills Stadium in Queens and two nights at Kings Theater in Brooklyn. For all the tour details, visit nonesuch.com/on-tour.
To pick up a copy of the album American Utopia, head to your local music store, iTunes, Amazon, and the Nonesuch Store, where CD and vinyl orders include a download of the complete album at checkout. You can also listen to the album on Spotify and Apple Music.