David Byrne and 11 musicians delivered stunning performance at Riverside Theater
Via On Milwaukee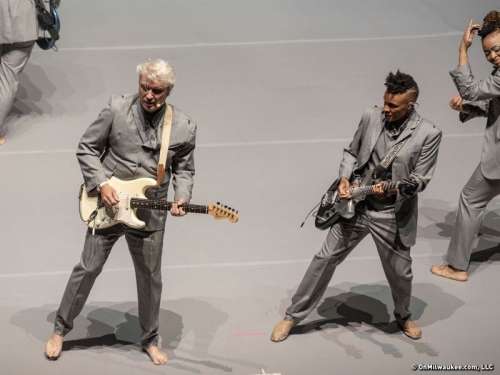 PHOTO: Daniel Ojeda
By Molly Snyder
To call tonight's sold-out David Byrne show a concert would be an understatement. It was a concert illuminating from a performance exploding with rhythm, joy, melancholia, grace, quirky dance moves and love.
The two-hour show opened with a barefoot, gray-suited, white-haired Byrne sitting center stage at a small table topped with a fake human brain. The stage was framed by an opulent floor-to-ceiling silver beaded curtain and Byrne broke into the powerful but slow "Here."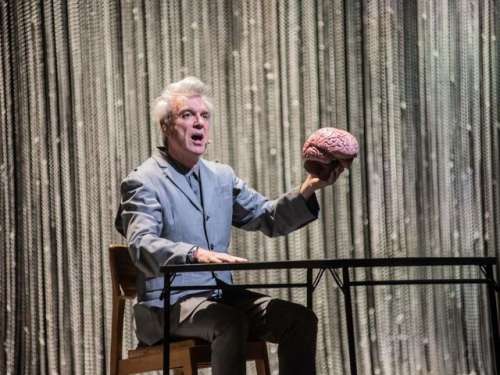 PHOTO: Daniel Ojeda
After this song, and for the remainder of the evening, neither Byrne – nor anyone in the audience – sat again. Byrne was backed by 11 musicians in matching-ish gray suits – including Milwaukee native Angie Swan – who only played what they could carry (no cords or amps!) including bass, guitar, keyboard and myriad percussion instruments ranging from drums to "kitchen sink" contraptions.
Sometimes the musicians danced, sometimes they sang, but mostly, they added incredible musical talent to the mix – particularly Swan who had a couple of guitar solos that didn't burn the house down thankfully, but took it down with applause.
Every movement of the show was choreographed, but in a simple and joyful way – somehow never silly or kitchy – despite the "air maracca" playing, the quasi jumping jacks and the abstract surf moves. The energy level of the 66-year-old Byrne – and the entire group – was impressive, only because it seemed so natural and easy that it wasn't until after the show, upon reflection, that it was realized how taxing that would be for most people.
Byrne, of course, is the former frontman of art-punk-rock innovators Talking Heads, but he also had a prolific solo career and numerous collaborations with musicians like Brian Eno, St. Vincent and Fatboy Slim. Earlier this year, he released "American Utopia," his first solo album in 14 years. Hence, the concert was a mix of new material, solo material and yes, classic Heads' songs including "Slippery People," "This Might Be The Place (Native Melody)," "Once In A Lifetime" and "Burning Down The House."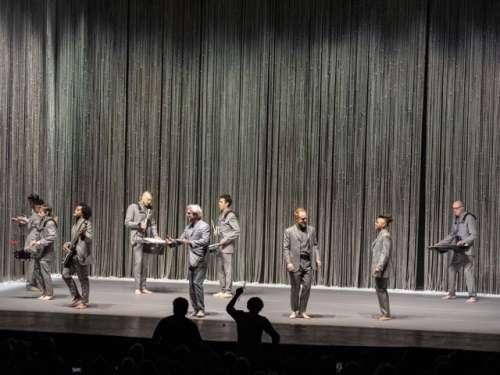 PHOTO: Daniel Ojeda
Other high points of the show included Byrne belting out the soulful and sad "Bullet" next to a bare lightbulb on a light stand and the final encore, a cover and an adapted version of Janelle Monae's "Hell You Talmbout" that acknowledges African-American people who have died during interaction with police and implores listeners to actually say their names.
Overall, the show was a perfect mix of the old and the new from Byrne – yes, he let us yell out "My god, what have I done?" – that perfectly showcased Byrne's years of mastering a variety of genres from art rock to Latin / World.
If there was one critique, it would be that he didn't alter his commentary to fit the Milwaukee audience specifically – other than to introduce Swan as a native – but the audience didn't seem to notice or care. Instead, they were once again completely engaged during the show and extremely positive on the way out.
Same as it ever was.
Set list:
Here
Lazy
Slippery People
I Should Watch TV
Dog's Mind
Everybody's Coming To My House
This Must Be The Place (Native Melody)
Once In A Lifetime
Doing The Right Thing
Toe Jam (Brighton Port Authority Cover)
Born Under Punches (The Heart Goes On)
I Dance Like This
Bullet
Every Day Is A Miracle
Like Humans Do
Blind
Burning Down the House
Encore 1:
Dancing Together
The Great Curve
Encore 2:
Hell You Talmbout (Janelle Monae cover)