David Byrne lives up to his legendary status (obviously) at Riverside Theater
Via Milwaukee Record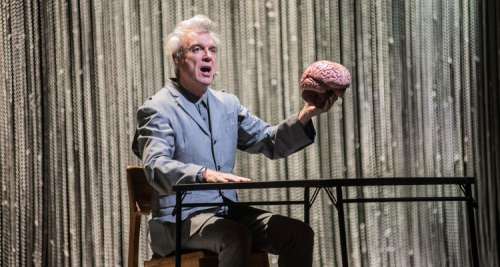 Photo by Daniel Ojeda
By Cal Roach
In recent years, David Byrne has made more headlines for his activism than his music; based on his new solo album, American Utopia, this might be a good career development. Byrne has never shied away from making political statements with his music, it's just that his gifts for metaphor and lyrical finesse seem to have faded a bit. For instance, here's the chorus from an American Utopia cut called "Dog's Mind": "We are dogs in our own paradise / In a theme park of our own / Doggy dancers doing doody / Doggy dreaming all day long." Deep!
Fortunately for his fans, Byrne already had a decade's worth of songs from his old band, Talking Heads, to mine for his current tour, which he has called "the most ambitious show I've done since the shows that were filmed for Stop Making Sense." Tuesday night's sold-out performance at Riverside Theater was indeed an impressive production, but the visuals and technological marvels probably aren't the primary factors that will stand out in fans' memories of the show.
Byrne's last visit to Milwaukee was during his 2012 duo tour with St. Vincent, and his current choice of tourmate, Benjamin Clementine, suggests he's still at least in touch with pop music's cutting edge. Clementine won the 2015 Mercury Prize for his debut album At Least For Now, which, in countries other than the U.S., is kind of a big deal. Last year's I Tell A Fly is an equally compelling though perhaps even stranger album. Alone at the piano, Clementine took great liberties with his compositions; his rendition of "Phantom Of Aleppoville," for instance, was barely recognizable from its studio version, and he often took the theatrics beyond reason to the point of virtual crowd-baiting. Clementine's pleas for social justice were powerful but rarely blunt, and the crowd (other than a handful of inconsiderate loudmouths) received his set enthusiastically. Byrne and his entourage had a lot to live up to.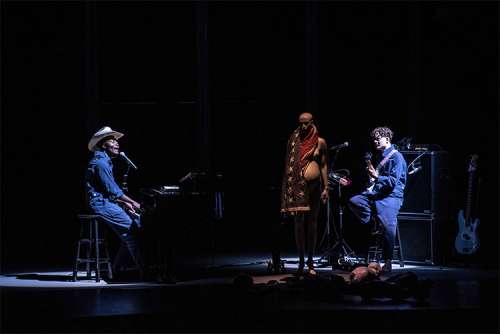 Photo by Daniel Ojeda
Er, scratch that. Byrne had a full, choreographed production at his command, a myriad complement of percussionists and singers and dancers. He had Milwaukee's own Angie fucking Swan on guitar. Byrne had a few decades of legendary status to live up to. That was about it.
It was an unusual melting pot of kids and curmudgeons in the audience; fans of all stripes filled the theater with a palpable excitement even before Byrne emerged for a solo rendition of "Here," as a shimmering enclosure of silver thread rose from the stage floor up to the rafters. As the musicians emerged, all visible equipment was hand-held or strapped to the performers; there was no drum kit, no monitors, no mic stands. "Lazy," from Byrne's 2004 album Grown Backwards, was a somewhat unremarkable choice to ease into the performance, but he followed it up with "I Zimbra," which brought the entire crowd to its feet for the rest of the night.
Perhaps predictably, Byrne's newest material came to life onstage in a way that listening to mp3s could scarcely hint at. Despite its baffling chicken-based imagery, "Every Day Is A Miracle" came off like a lost Talking Heads classic as a good percentage of the crowd belted out "You've got to sing for your supper / Love one another," and studio trifle "I Dance Like This" became a quasi-industrial show-stopper late in the set.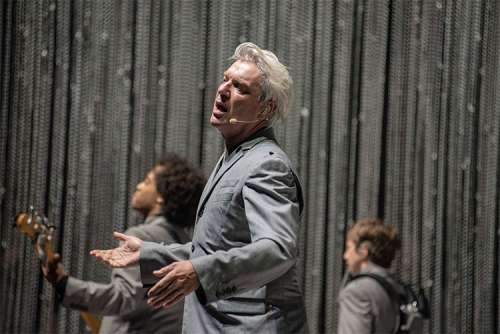 Photo by Daniel Ojeda
Byrne's onstage persona was much less demure for this show than when he'd played here with St. Vincent; he was quirky but animated and fully engaged. He didn't need to lean heavily on the oldies, but peppered judiciously throughout the set, the Talking Heads tunes brought down the house every time. "Once In A Lifetime" and "Born Under Punches" were delirious reminders of how well the band's catalog has aged, and "Burning Down The House" was the perfect closer for the regular set.
The moment at least some Milwaukeeans had been waiting all night for, though, arrived at the end of the first encore segment: Swan, bathed in spotlight, center-stage, tearing up the guitar to finish off "The Great Curve." It was an absolute knockout, only rivaled by the night's final song: a militant take on Janelle Monáe's little-known tribute to victims of police violence, "Hell You Talmbout." The entire crowd shouting the names of Jay Anderson and Dontre Hamilton, among many others, amounted to an incredible catharsis.
The communal experience that ended the show could potentially have broadened a lot of people's perspectives. What if scoffing at those lyrics about doggies is a pathetically elitist attitude to take? What if Byrne's bluntness crosses across a few social and political divides when combined with his obvious passion? What if he's actually reaching people, while the rest of us simply promote ourselves in the digital echo chamber of our chosen comfort zones? Rock and roll still isn't going to save the world, but in the hands of a master, it does have the power to bring us together, at least for a night.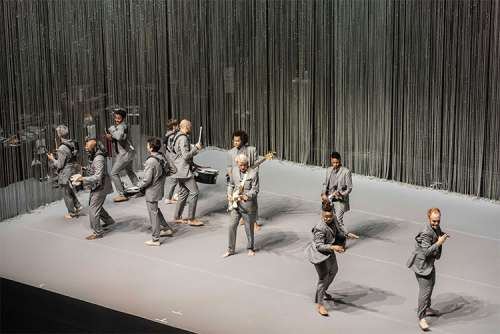 Photo by Daniel Ojeda