David Byrne, Hammersmith Apollo, review: 'this was something special'
Via The Telegraph
Photo Credit: Gus Stewart/WireImage
By Sarah Carson
★★★★★
David Byrne claimed last year that his American Utopia tour would be his most ambitious since the concerts recorded for Stop Making Sense. That seminal 1983 Talking Heads film captured, with near-perfection, the frisson of live performance, with Byrne's frantic energy amplified by a comically ever-expanding suit. Thirty-five years later, and with Byrne now 66, you'd be forgiven for doubting him, but he was right. With this new show, Byrne and his 11-piece band put on an unforgettably unique, imaginative, and kaleidoscopically entrancing spectacle of music, dance, and theatre.
A plastic human brain sat atop a card table at the centre of a stage surrounded by gold chain curtains. Byrne entered alone, with bare feet and a grey suit, and sang the spectral Here, from March's American Utopia - his first solo album in 14 years. Next, he wandered the stage, brain in hand, like some visionary professor, before the laboratory transformed into throbbing, hazy club and his band joined him for the electric, aerobic X-Press 2 collaboration Lazy, Byrne's hips swaying with robotic precision. The mood switched, again, to exaltation for Talking Heads classic I, Zimbra: every number offered a new thrill.
Choreographer Annie B Parson has worked with Byrne before and here turned rock concert into high art. Rare was the moment of stillness: every movement of Byrne and his fellow musicians was somehow both hypnotically in-sync, yet still loose and spontaneous, while every dreamlike note was played live. Barefoot and in matching grey suits which belied the dazzling technicolour of the music, they looked like members of a cult, with Byrne the white-haired, shock-treated prophet at its centre.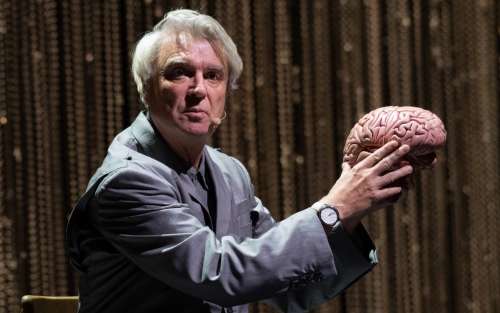 PHOTO CREDIT: ROBERTO RICCIUTI/REDFERNS
While Talking Heads material, pleasingly, made up half the night, there was no trace of indulgent nostalgia. Once in a Lifetime was a fresh sermon, as Byrne staggered around, recreating the music video as if in a state of breathless delirium; for Blind, the players cast giant silhouettes as if elastic, looming shadow puppets. So transfixing and impassioned were chants of 'God help us, help us lose our minds' during Slippery People that one thought the room just might, and Burning Down the House was deafening and ferocious. Even for an icon like Byrne, this was something special.
Byrne returns to the UK in October. For dates, see nonesuch.com