David Byrne same as he ever was Saturday at Coachella, as eccentric singer wows with a layered set
Via Desert Sun
By Shad Powers
David Byrne delighted the sunset crowd Saturday night during the second week of Coachella with a set that bounced around between nostalgia, comical dancing and musical skill, before ending with a powerful message.
And despite those seemingly disparate tones, it all weaved together perfectly, united by the clever stage work by Byrne and his 11-piece backing band.
They were untethered. None of the instruments were anchored down, so the 12-person group was marching around, dancing and interacting throughout the hour-long performance. It was seven different percussion players, two guitarists, a keyboardist and a backup singer. Most of them, including Byrne, were barefoot.
Photo: Richard Lui, The Desert Sun-USA TODAY NETWORK
Their simple, slow, tongue-in-cheek choreography was like watching a yoga class with really amazing music. And it created many memorable moments. One song started with them all laying down on the stage. They did a "silent disco" moment during another song where the music stopped but they kept dancing before the music kicked back in. They played with shadows during another song as an extra-large Byrne shadow loomed over 11 tiny other shadows as the rest of the group was miniaturized by running to the back of the stage.
The stage was creative and compelling but it didn't outshine the music.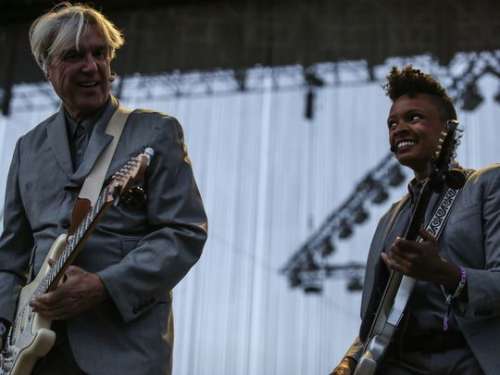 Photo: Richard Lui, The Desert Sun-USA TODAY NETWORK
In a set that was similar but not exactly the same as Weekend 1, the former Talking Heads frontman played several of the bands' songs like "Slippery People," "Blind," "The Great Curve" and "This Must Be The Place" as well as the two biggies that the casual fans on hand were waiting for — "Once in a Lifetime" and "Burning Down the House."
"Once In a Lifetime" in particular happened right at the height of one of those all-time Coachella sunsets, and it provided a moment of song, dance and mood that really did have a once-in-a-lifetime feel.
He also took the opportunity to play his new song, "Everybody's Coming to My House," which was a hit with the crowd. It had the same eccentric Byrne style with a little more shredding guitar than the rest of his catalog.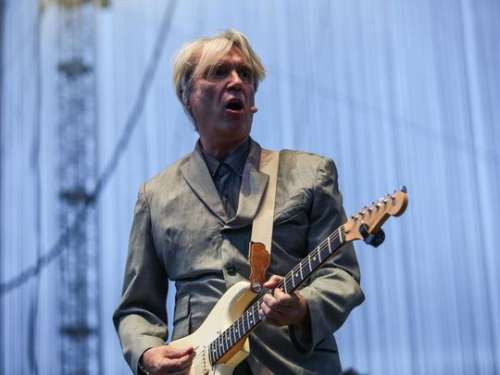 Photo: Richard Lui, The Desert Sun-USA TODAY NETWORK
Byrne finished his set with a poignant moment. After playing his biggest hit "Burning Down the House" as his penultimate song, he made a simple request of the crowd "Don't leave."
Sure enough those leaving stopped in their tracks to here the band play Janelle Monae's "Hell You Talmbout." It was the same closer as Weekend 1 and it's a song that in essence calls on you to remember the names of African-American people who died in encounters with law enforcement or acts of racial violence.
As the names rang out, it was a reminder that Byrne, while at times kooky, has always made music that stands for something.