It's David Byrne Week in SF Bay Area — here's how to celebrate
Via The Mercury News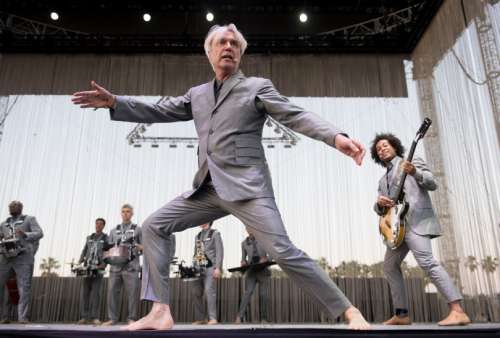 Phto by Kevin Sullivan, Orange County Register/SCNG
By Jim Harrington
Happy David Byrne Week, Bay Area.
No, there hasn't been an proclamation from the governor, or anything. But there might as well be, since Byrne will be practically everywhere in Northern California over the next bunch of days.
Look! There he is now!
OK, so maybe he's not actually at the same Carl's Jr. as we are right now.
You will, however, find the former leader of the legendary Talking Heads if you visit the Fox Theatre in Oakland on Aug. 16-17. (8 p.m.; $65-$135, www.ticketmaster.com)
After that two-night stand, Byrne is scheduled to visit the City National Civic Auditorium in San Jose on Aug. 18. (8 p.m.; $55-$150, www.axs.com)
Next up? The post-punk/New Wave/art-pop pioneer performs Aug. 21 at the Sacramento Community Center Theater. (8 p.m.; $55-$150, www.tickets.com)
Byrne closes his five-night Northern California run with a show on Aug. 22 at the Bill Graham Civic Auditorium in San Francisco. (8 p.m.; $65-$175, www.ticketmaster.com)
The vocalist is out on the road in support of his long-awaited 11th solo studio album, "American Utopia," which is his first full-length solo set since 2004's "Grown Backwards."
Hopefully, Byrne will include a few Talking Heads classics on the set list as well.
Details: For more show information, visit davidbyrne.com.