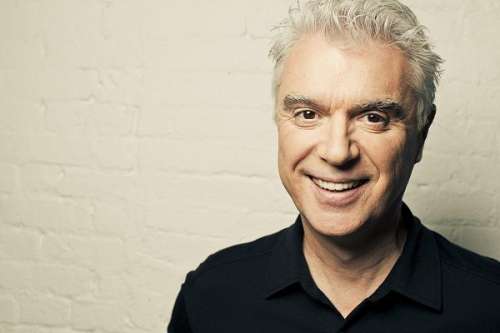 By Robin Murray
There's a point in David Byrne's current live show – the 129th of his American Utopia world tour – when you realise that you simply haven't stopped grinning for about an hour, and you have absolutely no intention of stopping.
Constructed in the aftermath of his 'American Utopia' full length, it's billed as the songwriter's most ambitious since Talking Heads' fabled Stop Making Sense live project, but in reality it occupies its own singular realm, and any comparison with a certain expanding suit diminishes the achievements of both.
With the top tier of London's O2 Arena blocked off a certain intimacy is acquired – or at least, the most intimacy an arena venue can offer. The lights come up and David Byrne is seated, shoes off, gently fingering a model brain: "Here is a region of abundant details…" and we're off, off into a surrealistic deep dive into lasting creativity.
Backed by an incredible band, David Byrne leads the way into 'Lazy', the X-Press 2 collaboration that thrust the Scottish born singer out of the art-houses and back into the charts at the cusp of the Millennium. It's a funky but defiantly odd workout, with Byrne preening: "Imagine life is perfect and everything works out".
A set rooted in his 'American Utopia' full length, David Byrne balances this with a nuanced look at his wider catalogue. Talking Heads' major tracks are largely present and correct, but given wonderful, enthralling, and subtle re-arrangements by the crack band. 'I Zimbra' is keening, affecting, while 'Slippery People' has an almost salsa flavour, a rhythmic exuberance that twists and turns with absolute relish.
There's a few off piste choices as well: who but David Byrne would include a song from his oft-neglected Fatboy Slim collaboration Brighton Port Authority? Yet he does, and it works. It's a set of fastidious detail but also sheer emotion, a kind of artistic honesty that stretches from the backdrops to the guitar solos. For the St. Vincent co-write 'I Should Watch TV' the band are illuminated by cathode rays, and it's simple touches like this that add such a wry, humane edge to the performance.
'Doing The Right Thing' is wonderful, while 'Every Day Is A Miracle' manages to exude stunning positivity without ever one seeming cloying or trite – it's heart on sleeve in the most beautiful possible way. There's a rich curatorial spirit on show at every turn. 'Like Humans Do' segues into a final Talking Heads double bill, ending on a pulsating 'Burning Down The House'.
He has fun with his legacy, too – 'Everybody's Coming To My House' ends with the line "and they've never going home…" before David Byrne leads the band into 'This Must Be Place (Naïve Melody)' and it's tender opening line: "Home, is where I want to be…"
Far from a solo endeavour, the full ensemble is given space to signal their own voice. From the searing guitar solos to the flashes of slap bass, each individual is given a moment to call their own, yet there's also a sense that the overall sound, the overall impact is what is required. From the choreography to the lights and the sonic effects every detail is utilised with a bigger picture in mind.
Indeed, David Byrne even ends with the work of another artist. Returning for the second encore, he leads the band into a rendition of Janelle Monae's searing 'Hell You Talmbout', a song he interprets as a message to do better. There's a subtle political undercurrent running through the entire show, from misinformation to the widening divide in Western society.
David Byrne introduces 'Everybody's Coming To My House' by recalling a recent video he watched, in which a Detroit school choir re-cast the song in their own image. Realising it was a song of openness, he introduces three members of the band, who were born in Brazil but are American immigrants. He notes simply: "We couldn't do this show without them".
It's a touching moment, so simple in its execution but so profound. A moment of sincerity but also absolute joy – for one night only, David Byrne comes close to achieving his utopia.
- - -