Review: David Byrne offers joyous, stunning night of music and dance at Jubilee
Via Calgary Herald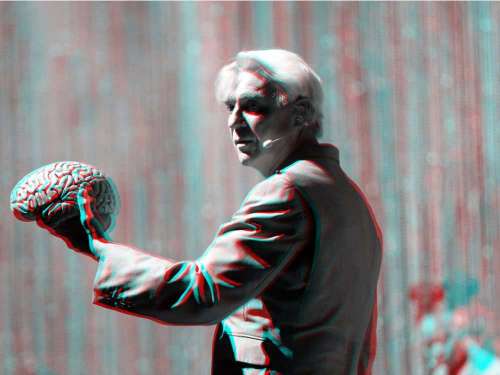 Photo by Fish Griwkowsky / CALWP
By Eric Volmers
Bathed in a spotlight and jerking around like a startled marionette, Byrne seemed to offering a rare flash of the familiar as the Talking Heads' 1980 hit Once in a Lifetime began to swirl around him. But while his 11-piece band offered a note-perfect rendition of the song, it was far from an oldies rehash. As the band flew into action and the rapt audience sang along, it began to feel like a manic piece of performance art that had gone haywire.
It hadn't, of course. It was just as meticulously choreographed as the rest of the numbers. Like everything else on Monday night, it was impressively and unerringly controlled.
While on the surface that may seem somewhat antithetical to the spirit of live performance, at least for a rock and roll show, it should be said that Byrne's Calgary stop on his massive American Utopia tour was also one of the most inspired, intriguing, energetic and joyful concerts in recent memory. To call it unique hardly does it justice. It mixed contemporary dance, theatre and 21 fantastic songs played by an unbelievably accomplished group of musicians. It was an evening of strange, exciting synchronicity, where dozens of moving parts continuously interlocked, broke apart and came back together again like an elaborate Chinese puzzle.
Despite all the intricacies in musicianship and movement on display, the stage set-up was actually spartan. There were no amplifiers or drum kit and props were kept to a minimum. Like Byrne, all 11 of the backup musician/dancers were mobile in their matching grey suits and bare feet, illuminated by an elegant light show that only occasionally went for flash. One of the many miracles of the performance was the precision of the playing even as the players kept in step with the choreography. This was particularly impressive given the rhythmic complexities of the songs, which were covered by a six-piece percussion section. At one point, Byrne felt it necessary to point out to the audience that the musicians were all playing live, not dancing and lip-synching to piped-in backing.
The theatrical leanings were obvious right out of the gate, with the silver-haired Byrne first appearing in front of a small, spotlit table holding up the model of a brain while crooning Here, the slow-burning closer on American Utopia. It was followed by Lazy, a thumping dance number Byrne co-wrote for British dance duo X-Press 2; the Talking Heads' Africa-influenced 1979 single I Zimbra; and the seductive Slippery People, a deep cut from the band's 1983 album Speaking in Tongues.
By that point, it had become clear that this was no ordinary rock show. While there may not have been a discernible narrative tying it all together, the dance routines often added humour, surreality and dramatic heft to the songs. I Should Watch TV, taken from Byrne's 2012 album Love This Giant with St. Vincent, became a sinister methodical march in the dark as the backing band slowed closed in on their leader. The entire ensemble began I Dance Like This lying motionless on the ground before the song built to its chant-along finale. A single spotlight threw massive shadows on the walls behind the musicians for the unhinged funk of the Talking Heads' Blind. Toe Jam, which Byrne co-wrote with Dizzee Rascal for producer Fatboy Slim, ended what something that resembled a frenzied neighbourhood dance-off.
On the soaring Everyday is a Miracle, another stunner from American Utopia, Byrne's funny, existential lyrics became all the more unsettling when matched with the spinning, manic Hare Krishna-type climatic dance. It wasn't the only time the show took on a quasi-religious feel.
For instance, the evening ended with Byrne and co. charging through a reverent take Talking Heads' Burning Down the House with appropriate gusto before an encore that included a blistering run through the Heads' The Great Curve.
So, for the final encore, it would have been easy to Byrne to dust off another Talking Heads hit. Instead, the 12 musicians formed a drum line and played a cover of Hell You Talmbout, Janelle Monae's furious 2015 protest song about police shootings of African-Americans.
It was a perfect ending for the night. It showed what may be the 65-year-old rock star's greatest strength. Despite no shortage of past glories to rest on, he remains artistically restless and stubbornly forward-looking.