David Byrne is bringing Des Moines his most ambitious show since 'Stop Making Sense'
By Matthew Leimkuehler
David Byrne says he's bringing Des Moines his most ambitious show since "Stop Making Sense."
That's quite a statement for Bryne, the enigmatic former Talking Heads frontman who's been "Burning Down the House" in venues since the 1970s.
Critics still regard that 1983 Talking Heads tour as one of the best in a generation. Oscar-winning director Jonathan Demme brought the show to the silver screen in 1984, setting a standard for the crossroad of live music and cinema.
It's also interesting because Byrne's one not to dwell on past accomplishments. He's a card carrying Rock and Hall of Fame member, yes. But — unlike most in the hall — he doesn't lean on nostalgia to sell tickets; he uses his platform to offer commentary on the moment (his 2018 album, "American Utopia," for example).
So ... why, in the press campaign for his new tour, did he make the comparison?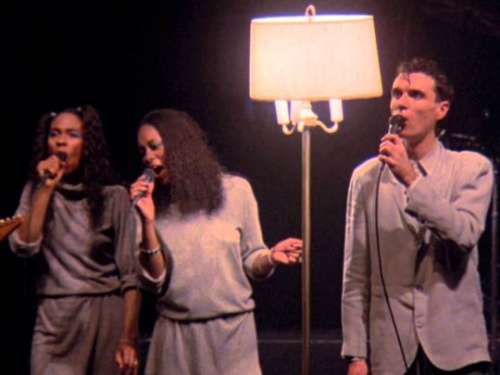 Photo: Photo courtesy of Jacob Burns Film Center
"Well, because," he paused, laughing. "When I started planning the show — researching how to make it work and how to budget it and everything else — it reminded me of the process I went through then."
That's not all.
"It's a simple idea," he continued. "And the same thing happened with 'Stop Making Sense.' A very simple idea: Build the show in front of the audience and just let everything flow from that."
Byrne returns with his band to Des Moines on June 5, for a one-night show at the Civic Center.
Each backing band member, including percussion, comes mobile. Each dances with Byrne, who plays solo songs and a few Talking Heads favorites.
The show starts with Byrne, sitting on stage alone (and probably shoeless), and builds with each musical movement, the way fans saw Byrne build from an acoustic "Psycho Killer" to full-band blowout of "Burning Down the House" in "Stop Making Sense."
The direction of his new record, "American Utopia," his first proper solo album since 2004, helped push the live concept, he explained.
The album isn't as melancholic as the title suggests; it offers a conscious, clever soundtrack of positivity in a social climate that could use a reason to be cheerful. Byrne enlisted longtime collaborator Brian Eno in building the heavily percussive numbers.
"I thought, 'Oh, these are going to be fun to play live,'" he said. "Some of them, anyway, could involve lots of percussion. Lots of drumming. I imagined what that could be … I started thinking about what songs we could do and 'Could we mix older songs and newer songs?' And of course we can."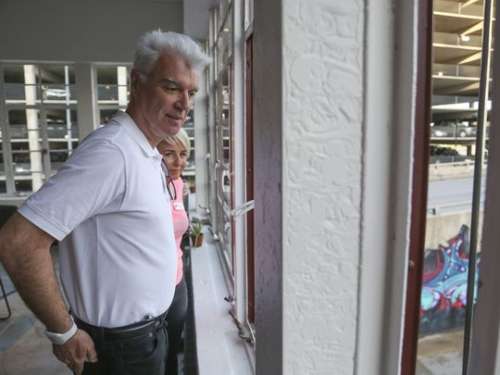 Photo: Charlie Litchfield/The Register
Byrne returns to Des Moines following a 2013 headlining appearance at 80/35 Music Festival and 2014 lecture at the opening of the Des Moines Social Club firehouse location.
He called the city's artistic transformation "inspiring" during the latter visit. In his travels this year, he said he's explored cultural incubators à la the Social Club in Pittsburgh and Brazil.
"There seemed to be cultural institutions on the rise," he recalled of Des Moines. "People seemed to value quality of life over exclusively economic measures of well-being."
Next month's show isn't framed by solely Byrne's music, either. He covers powerful Janelle Monae number "Hell You Talmbout," a 2015 track that lists the names of African Americans who died by racial violence.
Byrne earned Monae's blessing before adding it to his set, he said.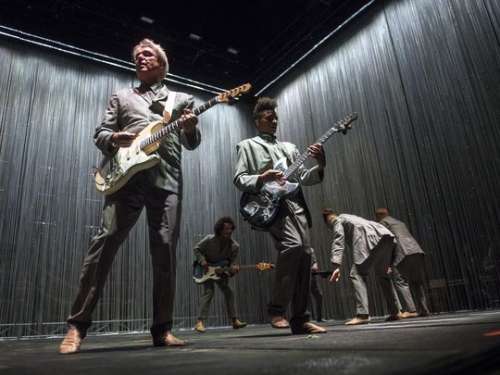 Photo: Brandon Dill / Special to The Commercial Appeal
"Especially in these days, it's our duty and responsibility to be more engaged and not just sit back and let things happen," he said. "It doesn't dictate policy or anything like that. It talks to the people's lives that are gone. It's incredibly moving."
Moving, in more ways than one, is what Byrne hopes to see from his audience next month in Iowa's capital city.
"Be prepared to be standing even if it is a seated venue," he said. "That's what's been happening at most places. Standing and dancing."
David Byrne in Des Moines
When: 7:30 p.m. June 5
Where: Des Moines Civic Center, 221 Walnut St.
Cost: $79.50-$179.50
More information:dmpa.org.