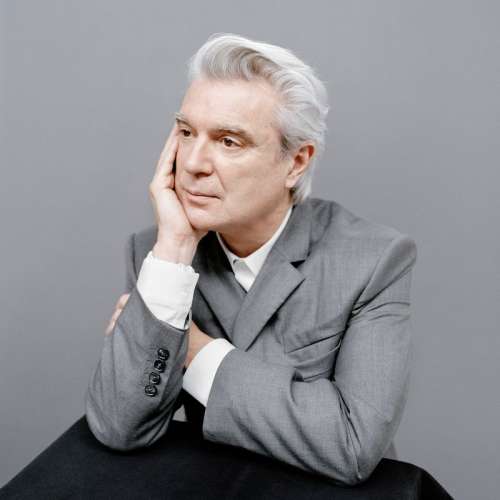 Photo by Jody Rogac
Written by Nathan Weinbender
David Byrne released his latest solo album, American Utopia, last week, and it proves he's still hung up on the same themes — technology, industry, the niceties (and absurdities) of modern life — as when he was burning up the charts with Talking Heads.
The art-rock pioneer, known for his pinched vocal delivery and onstage theatrics (remember those oversized suits?), is one of the few artists to ever score massive commercial hits with songs that so brazenly defied classification.
It got me thinking about Byrne and his legacy. He's one of pop music's most brilliant conceptual minds, one of the few rock frontmen who's so much more than just a rock frontman. He's also:
An innovator. Take a listen to his and Brian Eno's 1981 sound collage album My Life in the Bush of Ghosts, which still sounds ahead of its time. Blending clips of religious chants, radio broadcasts and international music, it introduced the art of sampling to a wider audience. Even before that, Byrne was one of the first white American artists to explore African rhythms, using instruments like the djembe and surdo on Talking Heads' great 1979 album Fear of Music, also produced by Eno.
A filmmaker. Byrne's most famous big-screen foray was in Jonathan Demme's Stop Making Sense (1984), the Talking Heads concert film that's generally considered the finest of its genre. But Byrne deserves acclaim for directing and co-writing the wonderfully strange True Stories (1986), in which he serves as a tour guide through a small Texas town and its weird residents, played by the likes of John Goodman, Spalding Gray, Swoosie Kurtz and Pops Staples. It's a quirky cult comedy, available to rent on Amazon and iTunes.
A collaborator. Byrne's most frequent creative partner has been Eno, but he often works with younger artists. In 2010, he teamed up with Fatboy Slim to write Here Lies Love, an off-Broadway musical about the former Philippines first lady Imelda Marcos. 2012's Love This Giant, meanwhile, is Byrne's collaboration with St. Vincent, perhaps the closest thing we have to a female David Byrne. The album is a seamless marriage of both artists' unusual sensibilities.
A label executive. In 1988, while still with Talking Heads, Byrne founded Luaka Bop, a record label he envisioned as a medium to spread his love of world music. While a handful of artists have recorded with the label, Luaka Bop serves primarily as a curator of older, obscure material. Amongst the musicians Byrne has helped receive wider recognition: Brazilian psych-rock pioneers Os Mutantes, late Nigerian funk svengali William Onyeabor and Belgian Afro-pop artist Zap Mama.