'David Byrne's American Utopia' Coming To Boston & Broadway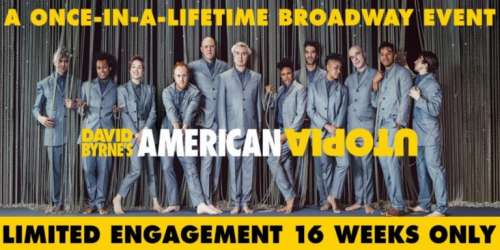 By Scott Bernstein
David Byrne's American Utopia is coming to Broadway for a run at New York City's Hudson Theatre October 4 – January 19, 2020. Before the series of concerts on Broadway, Byrne will bring the show to Boston's Emerson Colonial Theatre September 11 – 28 for 18 performances.
The former Talking Heads' frontman toured the world last year with his innovative show, which features 12 musicians performing untethered without cords, pedals, amps or any other musical equipment on stage besides their instruments. David Byrne will be joined for David Byrne's American Utopia by Jacquelene Acevedo, Gustavo Di Dalva, Daniel Freedman, Chris Giarmo, Tim Keiper, Tendayi Kuumba, Karl Mansfield, Mauro Refosco, Stephane San Juan, Angie Swan and Bobby Wooten III.
Here's Byrne on bringing the show to Broadway:
"Because of how theatrical the show is, others started telling me 'this needs to go to Broadway.' Why not? But what did that mean? Parked in a beautiful Broadway theater we can perfect the sound, the lights, the movement. I thought to myself that this new context might be good- it might bring out the narrative arc a little bit more, to make it just a little more explicit. I asked Alex Timbers, whom I'd worked with twice before on musicals, to help. He brought some original and insightful ideas to the room, ideas I was too close to imagine, and we used those to build on what we had."
Read a letter from David about the musical. Tickets for the performances in Boston can be purchased here, while tickets for the Broadway performances are on sale here.